Amazing Jonggring Saloko (Crater of Semeru) in East Java Province
---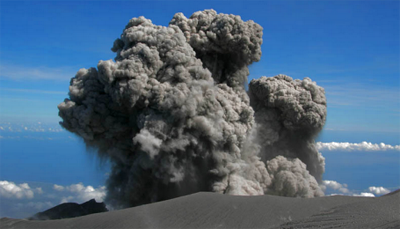 Indonesia has many active volcanoes and one of them is located in East Java Province, which is called Semeru Mountain. Also, it is the part of Bromo Semeru Tengger National Park offering magnificent impressions to tourists. When it is about Semeru, lots of people discuss the Crater called Jonggring Saloko. The location shares several regions including Probolinggo, Pasuruan, Malang, and Lumajang. Still, it belongs to East Java Province. Recently, it has been chosen as the background for photography as tourists can take pictures from afar. Not to mention trekkers want to conquer the terrain. They know they should not be careless when getting near to peak, though
The Nuance
Being the highest volcano in Java Island belongs to Indonesia, Semeru indeed has attracted tourists' attention. Jonggring Saloko is the name of its peak and it even attracts more tourists over time. The fact is that the peak is quite dangerous for people as it contains poison gas. Not to mention there is a dangerous stream coming out of hot lava. It often comes in a sudden manner and causes fatal injuries even death to tourists. Due to this fact, no one should act carelessly when spending a vacation in Semeru Mountain or also Jonggring Saloko.
Exploring Jonggring Saloko
The name of the Peak of Semeru Mountain is Mahameru while its crater is called Jonggring Saloko. Heading to Mahameru is considered safe as long as tourists obey all the instructions given by the locals. However, they must reconsider if they want to approach the crater as it is highly dangerous. Even though trekking becomes a common activity, tourists must learn the risk and pay attention to any safety requirements before hiking. At least, they must wear proper gear, clothes, equipment, and footwear. Not to mention they should come with an experienced guide.
Trekking is one thing when it is about a vacation to Jonggring Saloko and Mahameru Peak. The reason is tourists can do other fun things there. For example, they can witness numerous types of plants and animals all the way up to the Semeru Peak, Indonesia. The most famous floras growing in that area are wild orchids, edelweiss, jamuju, pines, etc. and others. What about the animals? Visitors can meet several exotic faunas like Macaca, deer, mongoose, gallus, and numerous species of birds!
For those who want to perform trekking to Jonggring Saloko, they must learn the limit. For the safety reason, they should not get too close to the crater. Another important thing to pay attention to is the route. Two routes are available, actually. The first one takes much time but safer and the other takes a shorter time but riskier. For experienced trekkers, they can choose the second option which is more challenging and fun.
Nearby Attractions
Bromo Tengger Semeru National Park
Ranu Kumbolo
Tumpak Sewu Waterfall
Ranu Kumbolo
Ranu Pane
How to Get There
From Lumajang City of Indonesia, tourists must head to the welcome gate of Semeru Mountain. The trip takes about 1 hour as the distance is 27 km. Once they reach the gate, trekking would be the next thing they should do to reach the Peak of Semeru Mountain or even the crater (Jonggring Saloko)!
Where to Stay
Soemenake Hotel
Amanda Hotel
Jelita 2 Hotel

Latest News
Taman Nasional Bromo Tegger Semeru (TNBTS) Bromo Tengger Semeru National Park (TNBTS) was established through a Decree of the Minister of Forestry in 2005. Bromo Tengger Semeru area was designated as a national park partly because it has a unique ecosystem where has a caldera inside a caldera in the form of an active volcano (Mount Bromo) inside the Mount Tengger caldera with the sea volcanic sand around it. The uniqueness of the ecosystem and the beauty of natural panorama of Bromo Tengger Semeru National Park (TNBTS) make this area…
---
Batu, Malang, the city which is known for its wealth of natural tourism presents a new experience in the form of a thick Japanese feel at a resort called The Onsen Hot Spring. The resort is surrounded by pine trees with a backdrop of mountain views, making The Onsen Hot Spring Malang atmosphere so similar to the atmosphere at the foot of Mount Fuji. The term Onsen itself in Japan is a public hot spring bath that is separate for women and men. At The Onsen Hot Spring Malang, tourists…
---
Madakaripura Waterfall is one of the destinations that can be visited when you are in Probolinggo. Madakaripura Waterfall has an exotic view. In fact, dubbed as eternal rain. Madakaripura Waterfall, located in Branggah sub-district, Negororejo, Probolinggo, East Java. This tourist attraction has a charming view. The water is clear, then the high cliffs further add to the specialty of this area. Madakaripura Waterfall has a height of 200 meters, and has been named the highest waterfall in Indonesia after Si Gura-gura Waterfall in Toba Samosir, North Sumatra. Uniquely, this waterfall…
---
Not inferior to other cities in East Java, Madura Island also has interesting natural beauty. Each region has its own charm, Sumenep is no exception. In addition to its delicious culinary, Sumenep also has beautiful islands. Some islands even still have few visitors. Curious where is it? Check out this list of the most beautiful islands in Sumenep, Madura, East Java! White sand and clear water, Gili Labak is one of the favorite destinations for tourists. Every corner of this island feels Instagrammable. Gili Labak or Gili Lawak, is one…
---