Jodipan Tourism Village in Malang, East Java Province - Indonesia
---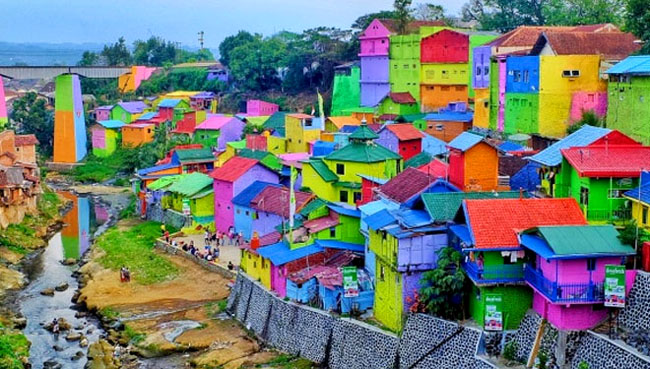 Bromo Tengger Semeru National Park is known as the place to do some adventures and natural activities like trekking, photography, etc. It belongs to several regions, including Lumajang, Indonesia. In that area, tourists may find also a unique village called Jodipan. One thing that makes it unique is the colorful houses located beside Brantas River. The other names of the village are Warna-Warni (colorful) and Tridi Village. Due to such charm and uniqueness, tourists feel comfortable and excited when exploring the village. Not to mention they have the chance to meet the friendly villagers and try their local foods.
The Nuance
As mentioned before, Jodipan's main feature is the formation of colorful houses organized neatly near to the famous Brantas River. In terms of region, the village belongs to Blimbing Sub-District and it has been visited by lots of tourists over time. In fact, it is also recognized by foreigners or those who want to have a new vacation experience. It is a good thing that Jodipan has turned out into a good and clean community. In the past, though, it was only a slum! The locals and some college students of UMM had an idea to lure visitors to that area so they decided to clean the environment and painted their houses with colorful vibrancy.
Exploring Jodipan Tourism Village
Being a tourism village, Jodipan has given a great contribution to Malang City and its surroundings regarding tourism income. Most of the visitors are people who want to take selfies in that area and do other fun things. In fact, several organizations conduct a photography competition sometimes. They are choosing the best shot made by tourists or any people who join the event. For casual visitors, they also love photography but they decide to post their pictures on their social media.
In term of location, Jodipan Tourism Village is considered strategic. Not only it resides beside Brantas River, the village is also located under a bridge. That means tourists can also watch the charm of the village from afar (from the bridge). Despite its young and attractive look, Jodipan is actually one of the oldest villages in Malang City. That means the culture remains unspoiled there, which is good news for tourists as they are able to enjoy them all when getting around the site.
Jodipan Tourism Village also has an important feature which is the Buk Gludhuk Bridge as stated above. The villagers named it Gludhuk due to the noisy sound created by passing vehicles when cutting across the bridge. On top of that, it also becomes tourists' favorite spot to take pictures with the village as its background. For first timers, it is better to work with a tour agent who usually offers a free walking tour or other tourist packages there.
Nearby Attractions
Malabar Park
Singosari Temple
Tugu Square
How to Get There
The good thing is that Jodipan Tourism Village is located near to Malang City of Indonesia (with the distance of only 4.3 km). That means travelers only need to spend about 20 minutes in order to reach the village. When it comes to the best route, they can use Raya Lawang – Malang Street.
Where to Stay
Amaris Hotel
Atria Hotel
Wilis Indah Hotel
Trio Indah Hotel

Latest News
Taman Nasional Bromo Tegger Semeru (TNBTS) Bromo Tengger Semeru National Park (TNBTS) was established through a Decree of the Minister of Forestry in 2005. Bromo Tengger Semeru area was designated as a national park partly because it has a unique ecosystem where has a caldera inside a caldera in the form of an active volcano (Mount Bromo) inside the Mount Tengger caldera with the sea volcanic sand around it. The uniqueness of the ecosystem and the beauty of natural panorama of Bromo Tengger Semeru National Park (TNBTS) make this area…
---
Batu, Malang, the city which is known for its wealth of natural tourism presents a new experience in the form of a thick Japanese feel at a resort called The Onsen Hot Spring. The resort is surrounded by pine trees with a backdrop of mountain views, making The Onsen Hot Spring Malang atmosphere so similar to the atmosphere at the foot of Mount Fuji. The term Onsen itself in Japan is a public hot spring bath that is separate for women and men. At The Onsen Hot Spring Malang, tourists…
---
Madakaripura Waterfall is one of the destinations that can be visited when you are in Probolinggo. Madakaripura Waterfall has an exotic view. In fact, dubbed as eternal rain. Madakaripura Waterfall, located in Branggah sub-district, Negororejo, Probolinggo, East Java. This tourist attraction has a charming view. The water is clear, then the high cliffs further add to the specialty of this area. Madakaripura Waterfall has a height of 200 meters, and has been named the highest waterfall in Indonesia after Si Gura-gura Waterfall in Toba Samosir, North Sumatra. Uniquely, this waterfall…
---
Not inferior to other cities in East Java, Madura Island also has interesting natural beauty. Each region has its own charm, Sumenep is no exception. In addition to its delicious culinary, Sumenep also has beautiful islands. Some islands even still have few visitors. Curious where is it? Check out this list of the most beautiful islands in Sumenep, Madura, East Java! White sand and clear water, Gili Labak is one of the favorite destinations for tourists. Every corner of this island feels Instagrammable. Gili Labak or Gili Lawak, is one…
---