Watu Lawang Waterfall in Sukapura Sub-District, Probolinggo - Indonesia
---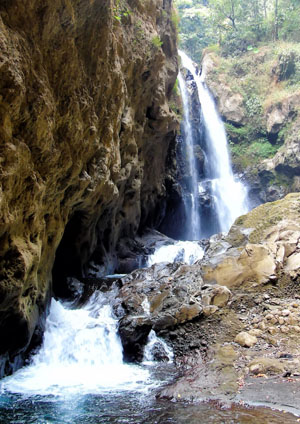 Another interesting tourist activity in Bromo Tengger Semeru National Park Indonesia is to visit any available waterfall. As for the reference, tourists can visit Watu Lawang Falls in Probolinggo District. To be exact, it belongs to Sukapura Sub-District and has been chosen as one of the best sites for enjoying lush nature. Watu means "stone" and Lawang means "door". The locals named it that way because the waterfall resides between two cliffs, representing an entrance or a door. Due to such uniqueness, many tourists are interested in visiting the falls and exploring the site wholeheartedly.
The Nuance
Even though the falls is not quite tall, its charm is splendid. The water flows down beautifully and it feels so refreshing. Below it, tourists might see a pond with crystal clear water! It appears the pond becomes another charm of Watu Lawang. No wonder, visitors are likely to get in it and take a bath for several minutes. Next, short cliffs also become a feature on the site. The best thing is that visitors can climb them easily as long as they pay attention to their steps. It is because the surface is slippery and wet.
Exploring Watu Lawang Waterfall
Watu Lawang resides in a good location, which is near to Ngepung Village. That means tourists can reach the site without hassles and in a short time. Despite its unpopularity, more visitors come from both nearby villages and other regions. This signifies that the falls are getting more fans as the time goes by. Even those who never visit it before can simply find the place with the help of the locals or a tour agency. Moreover, it spends only several minutes from the nearby village by foot.
Now, what are the charms of Watu Lawang Waterfall? The most recognizable one is definitely its unspoiled nature. As mentioned above, not many people know the presence of it. That means visitors would be astonished by its purity and lush nature. With this fact, everyone is able to enjoy a serene atmosphere as well as watch stunning waterfall when visiting Bromo Tengger Semeru National Park Indonesia and its surroundings. The only consideration is that the site does not feature any facilities like bungalows and food stands. Still, the locals have built some toilets nearby.
Another consideration is that visitors must have a good stamina to reach the location. Even though it is near to Ngepung Village, the landscape is a little bit challenging. Have no worries. Such tiredness is worth the experience. No one would regret visiting Watu Lawang Waterfall, for sure. They even have the chance to meet the locals and enjoy good foods like Campur Rice, Rawon, Corn Rice, and much more.
Nearby Attractions
Bromo Mountain
Madakipura Waterfall
B29 Peak
Umbulan Waterfall
How to Get There
From Probolinggo City of Indonesia, it takes about 1 hour to reach Sukapura Sub-District. The distance is about 34.5 km and tourists can take Raya Bromo Street for a faster trip. Once they reach Sukapura, the next destination is Ngepung Village and later they may head to the waterfall by foot.
Where to Stay
Sion View Hotel
Jiwa Jawa Bromo
Nadia Hotel
Sukapura Permai


Latest News
Taman Nasional Bromo Tegger Semeru (TNBTS) Bromo Tengger Semeru National Park (TNBTS) was established through a Decree of the Minister of Forestry in 2005. Bromo Tengger Semeru area was designated as a national park partly because it has a unique ecosystem where has a caldera inside a caldera in the form of an active volcano (Mount Bromo) inside the Mount Tengger caldera with the sea volcanic sand around it. The uniqueness of the ecosystem and the beauty of natural panorama of Bromo Tengger Semeru National Park (TNBTS) make this area…
---
Batu, Malang, the city which is known for its wealth of natural tourism presents a new experience in the form of a thick Japanese feel at a resort called The Onsen Hot Spring. The resort is surrounded by pine trees with a backdrop of mountain views, making The Onsen Hot Spring Malang atmosphere so similar to the atmosphere at the foot of Mount Fuji. The term Onsen itself in Japan is a public hot spring bath that is separate for women and men. At The Onsen Hot Spring Malang, tourists…
---
Madakaripura Waterfall is one of the destinations that can be visited when you are in Probolinggo. Madakaripura Waterfall has an exotic view. In fact, dubbed as eternal rain. Madakaripura Waterfall, located in Branggah sub-district, Negororejo, Probolinggo, East Java. This tourist attraction has a charming view. The water is clear, then the high cliffs further add to the specialty of this area. Madakaripura Waterfall has a height of 200 meters, and has been named the highest waterfall in Indonesia after Si Gura-gura Waterfall in Toba Samosir, North Sumatra. Uniquely, this waterfall…
---
Not inferior to other cities in East Java, Madura Island also has interesting natural beauty. Each region has its own charm, Sumenep is no exception. In addition to its delicious culinary, Sumenep also has beautiful islands. Some islands even still have few visitors. Curious where is it? Check out this list of the most beautiful islands in Sumenep, Madura, East Java! White sand and clear water, Gili Labak is one of the favorite destinations for tourists. Every corner of this island feels Instagrammable. Gili Labak or Gili Lawak, is one…
---