Bromo Tengger Semeru National Park
---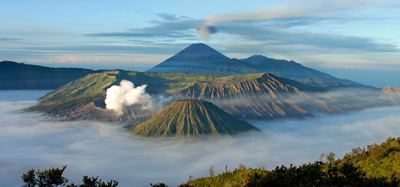 Bromo Tengger Semeru National Park have known all over the world. It covers a massive area of 800 km in the center of East Java, Indonesia. For everyone with an interest in volcanoes, a visit to the park is a must. This is the largest volcanic region in the province. Visit the park and see the plumes of smoke coming from Mt Semeru, an active volcano which rises 3,676 meters above sea level. Experience the remarkable Tengger Caldera, Java's largest, with 10 km barren desert-like sea of sand. Within the caldera rise the deeply fissured volcanic cones of Batok and Bromo, the latter is still active with a cavernous crater from which smoke blows skyward. Temperatures at the top of Mt Bromo range about 5-18 degrees Celcius. Our eyes will also completed by the sea of sand that the way to reach Bromo's peak.
The main gate to the sea of sand and mount Bromo is through Cemorolawang. This is the most crowded visiting area, espesially on holidays. There are many kinds activities that could be carried on this area such as; Camping, watching the scenery, horse riding to sea of sand or walking.
Mt Bromo has settled by Tenggerese for about thousands years. They who are good of God follower and always do their custom strickly, has historical relationship with Majapahit. The Antropologist from our country or other country are interesting to do some research, because the Tenggerese are strickly in keeping custom for centuries, without influenced by world's change. So there so many version of the unique of Tenggerese on the slopes of mountain , it can be in the forth of tale, folktale, serat and kidung, legend and science report.
How To Get There
Bromo Tengger Semeru Indonesia can be reached by private and public vehicle from Surabaya or Malang in East Java. Sriwijaya Air flies twice daily to Malang from Jakarta. There are multiple ways to get into the park. Visitors can come from Probolinggo, in the north west arrive through the village of Ngadisari. Or take the north east approach via Pasuruan and the village of Tosari. The third, the more difficult approach is via Ngadas, which is best traveled on the way down.
The Probolinggo approach is the easiest and by far the most popular route, especially if travelling by public bus. Wonokitri is the closest and the easiest approach if you are coming by private vehicle from Surabaya (5 hours trip). There are many vehicles available for rent there.
Most tour travel groups from Surabaya stay overnight at Tretes, where there are a number hotels, as there are in Malang, which has the added advantage of having an airport. Alternatively, you can contact a travel agency to arrange your trip.

Latest News
Taman Nasional Bromo Tegger Semeru (TNBTS) Bromo Tengger Semeru National Park (TNBTS) was established through a Decree of the Minister of Forestry in 2005. Bromo Tengger Semeru area was designated as a national park partly because it has a unique ecosystem where has a caldera inside a caldera in the form of an active volcano (Mount Bromo) inside the Mount Tengger caldera with the sea volcanic sand around it. The uniqueness of the ecosystem and the beauty of natural panorama of Bromo Tengger Semeru National Park (TNBTS) make this area…
---
Batu, Malang, the city which is known for its wealth of natural tourism presents a new experience in the form of a thick Japanese feel at a resort called The Onsen Hot Spring. The resort is surrounded by pine trees with a backdrop of mountain views, making The Onsen Hot Spring Malang atmosphere so similar to the atmosphere at the foot of Mount Fuji. The term Onsen itself in Japan is a public hot spring bath that is separate for women and men. At The Onsen Hot Spring Malang, tourists…
---
Madakaripura Waterfall is one of the destinations that can be visited when you are in Probolinggo. Madakaripura Waterfall has an exotic view. In fact, dubbed as eternal rain. Madakaripura Waterfall, located in Branggah sub-district, Negororejo, Probolinggo, East Java. This tourist attraction has a charming view. The water is clear, then the high cliffs further add to the specialty of this area. Madakaripura Waterfall has a height of 200 meters, and has been named the highest waterfall in Indonesia after Si Gura-gura Waterfall in Toba Samosir, North Sumatra. Uniquely, this waterfall…
---
Not inferior to other cities in East Java, Madura Island also has interesting natural beauty. Each region has its own charm, Sumenep is no exception. In addition to its delicious culinary, Sumenep also has beautiful islands. Some islands even still have few visitors. Curious where is it? Check out this list of the most beautiful islands in Sumenep, Madura, East Java! White sand and clear water, Gili Labak is one of the favorite destinations for tourists. Every corner of this island feels Instagrammable. Gili Labak or Gili Lawak, is one…
---