Tapak Paderi Beach
---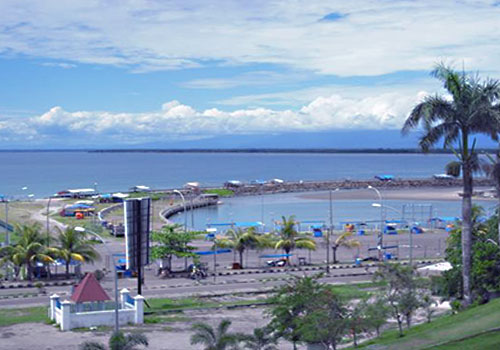 Tapak Paderi beach is connected to Panjang Beach and Jakat Beach in Bengkulu. This is a beach, that was the first deepwater port in Bengkulu and became the important sea transportation supporting by the British government in Bengkulu at that time, within 100 meters of Fort Marlborough.
A beautiful sunset is a charm that you can find in a tourist spot Bengkulu on this one. From the top of Tapak Padri, you can witness the beauty of the ocean Bengkulu. Walk-walk around the beach or enjoy grilled corn on the beach are interesting activities that you can enjoy. Attractions in Bengkulu this one has a long coastline and charming, it is not surprising if Tapak Padri is crowded with people visiting.
The location is not far from the city center, it only takes about 10 minutes to reach this place. Because of the ease of access to this beach, you can use two-wheeled vehicles and four wheels. Another way, you can also use public transport for example, like Angkot or Taxi.
How to get there:
If you plan to use public transportation such as Angkot, you can look for green Angkot from the terminal panorama, then stopped at Jalan Suprapto (Prapto). When you got there, then take the other Yellow angkot . Do not forget to tell the driver that you want to head to Tapak Padri, because this yellow angkot is quite flexible taking demand from passengers who want to visit some of the tourist spots that are near to Tapak Padri.
Meanwhile, for those of you who want to use a personal vehicle, you can start from terminal panorama, walk to the west and passing through Jalan Raya Air Sebakul, just follow this road until you enter Jalan Wage Rudolf Supratman and entering Jalan Irian, then turn left. Just follow the road, about 6.6 km take steered to the right and you enter Jalan Sumatra.
After you find Bencoolen Street, then past the two roundabouts. Not far from here, you can find Tapak Padri on the right road. In addition to Angkot, you can also use Ojek or cabs. Or, if you want to drive your own, there are a lot of bike rentals at this Bengkulu city. Traveling to Tapak Padri will be great for this beach has beautiful natural scenery, as well as the stories during the colonial era.

Latest News
Danau Dendam Tak Sudah (DDTS), can be translate with Never Ending Revenge lake is one of famous destinations in Bengkulu. This lake is settle in Dusun Besar village, Singaran Pati sub-district, Bengkulu and has an area of 557 and 67 hectare wide. The lake thought to have formed from volcanic activity in the area. By located in the strategic importance, in 1936 this lake was established as a nature reserve with an area of 11.5 hectares by the Dutch government. Then, in 1979, this nature reserve area has been expanded…
---
Danau Tujuh Warna Danau Tujuh Warna or Seven Colors Lake is located in Sumber Bening Village, Rimbo Pengadan, Bengkulu. Lake of Seven Colors can be taken approximately 35 km from the town of Muara Aman. Along the road to the location we'll be found many residents, a verdant tropical rain forests and hills which is the extend rows that can be seen from a distance. These hot springs contain lake which and represent the seven colors of Blue, Red, White, Grey, Yellow, Brown and Black. The huge lakes are those…
---
Tikus Island Tikus island or Mouse island is a small island that located on Bengkulu coastal waters and it part of Bengkulu province. This island is precisely located in west side of Bengkulu town. To reach this island, the visitors can ride the rental fisherman boat from Zakat beach or Tapak Pader beach, it takes 45 minutes. This island is clean and having beauty natural sightseeing, especially the water, which is very clear and sparkling. The visitors may see some fishes swimming around the coral which surround this small island…
---
Enggano Island Enggano Island is about 100 km southwest of Sumatra, Indonesia. It is about 35 km long from east to west and about 16 km wide from north to south. Administratively, it located on the North Bengkulu Regency. The three largest towns on the island are Barhau, Kabuwe and Kayaapu. The name of the island suggests some early contact with Portuguese traders (engano means disappoint), but the earliest published account was that of Cornelis de Houtman, dating from June 5, 1596, but he was unable to land a boat.…
---