Places of interest
---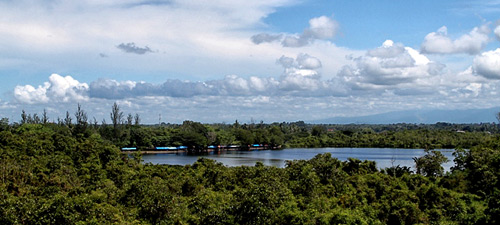 Bengkulu is the smallest and lowest populated province of Sumatra. Bengkulu province is located on the southwest coast of Sumatra. It occupies of 19,831 sq. km area and has about one million populations, comprising mostly Rejang, Malay, Bugis and Chinese ethnic ancestry people. Bukit Barisan mountain range constitutes its northeastern border, beyond which laid of South Sumatra province and Jambi province. The province protected by a stretch of mountains, which soon flow into the mighty Bukit Barisan. Tigers and elephants wander through the remains of the original rainforest, where exotic rafflesia's and orchids grow.
The British founded Bengkulu in 1685. It is a university town and administrative centre. It is the last territory in Indonesia to be held by the British. Fort Marlborough, constructed in 1762, is a castle with gatehouse that contains old gravestones with English inscription. Sir Stamford Raffles, who later found Singapore, was lieutenant - government of Bengkulu from 1818 to 1823.
Thomas Stamford Raffles was an important figure in Bengkulu history, which in 1817 was appointed as a Lieutenant-Governor of Bencoolen, the only territory in the area, which the Dutch had never managed to bring under their control. Raffles was an extraordinary and energetic man of wide-ranging interests. In the year of his arrival, he and a botanist named Joseph Arnold discovered the world's largest flower, at Manna River near Lubuktapi, in South Bengkulu. The flower is now known as Rafflesia Arnoldi and is the official symbol of Bengkulu province.
Tabah Penanjung, an hour drive into the hills above Bengkulu is a nature reserve where rafflesias are often found. Mt Bukit Kaba, near the hill town of Curup can be climbed in a day from Bengkulu.

Latest News
Danau Dendam Tak Sudah (DDTS), can be translate with Never Ending Revenge lake is one of famous destinations in Bengkulu. This lake is settle in Dusun Besar village, Singaran Pati sub-district, Bengkulu and has an area of 557 and 67 hectare wide. The lake thought to have formed from volcanic activity in the area. By located in the strategic importance, in 1936 this lake was established as a nature reserve with an area of 11.5 hectares by the Dutch government. Then, in 1979, this nature reserve area has been expanded…
---
Danau Tujuh Warna Danau Tujuh Warna or Seven Colors Lake is located in Sumber Bening Village, Rimbo Pengadan, Bengkulu. Lake of Seven Colors can be taken approximately 35 km from the town of Muara Aman. Along the road to the location we'll be found many residents, a verdant tropical rain forests and hills which is the extend rows that can be seen from a distance. These hot springs contain lake which and represent the seven colors of Blue, Red, White, Grey, Yellow, Brown and Black. The huge lakes are those…
---
Tikus Island Tikus island or Mouse island is a small island that located on Bengkulu coastal waters and it part of Bengkulu province. This island is precisely located in west side of Bengkulu town. To reach this island, the visitors can ride the rental fisherman boat from Zakat beach or Tapak Pader beach, it takes 45 minutes. This island is clean and having beauty natural sightseeing, especially the water, which is very clear and sparkling. The visitors may see some fishes swimming around the coral which surround this small island…
---
Enggano Island Enggano Island is about 100 km southwest of Sumatra, Indonesia. It is about 35 km long from east to west and about 16 km wide from north to south. Administratively, it located on the North Bengkulu Regency. The three largest towns on the island are Barhau, Kabuwe and Kayaapu. The name of the island suggests some early contact with Portuguese traders (engano means disappoint), but the earliest published account was that of Cornelis de Houtman, dating from June 5, 1596, but he was unable to land a boat.…
---