Tabot Ceremony
---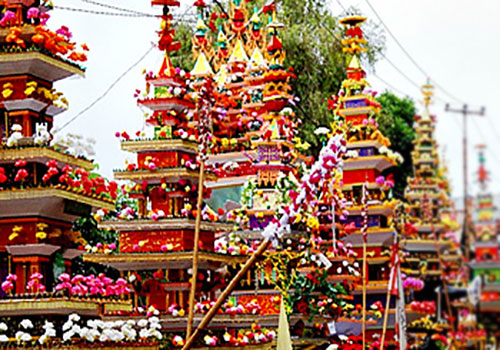 Tabot ceremony was originally taken and developed by the people from India origin from Siphoy that came with the arrival of British troops to Bengkulu in 1685. They came to Bengkulu from Madras-Bengali southern India, along the British nation during its occupation in Bengkulu. One of the newcomers was a Syiah cleric named Sheikh Burhanuddin whose later better known by the name of Imam Senggolo.
The name of Tabut or is derived from the Arabic word that is Tabut or the Ark, which literally means Wooden Box or crate. It was said that according to the belief of the Children of Israel at the time that when the Ark is emerging and were in the hands of their leaders, it brings good luck to them. On the contrary, when the Ark is lost it will bring bad luck.
Because of this ceremony is long enough to grow and thrive in some communities in the city of Bengkulu, then finally seen as Bengkulu traditional ceremony. Either among the Sippai and all the people of Bengkulu Melayu. Thus the ceremony of Tabot becomes the traditional ceremony of Malay Bengkulu.
In Bengkulu, the Tabot ceremony becomes the mourning commemoration of the death of the Great Syaid Husien bin Ali bin Abi Talib, a grandson of the Prophet Muhammad. The essence of the ceremony is recaling the efforts of Syiah leader and his people, who attempt to collect the parts of Husien bodies. After all the parts of his body be founded and then it paraded and buried in Karbala Padang. The whole ceremony lasted for 10 days, from 01 to 10 Muharram. The stages of the Tabot ceremony are as follows: Taking the Land, Duduk Penja, Meradai, Merajang, Arak Penja, Arak Serban, Gam (quiet period / mourning) and Arak Gedang and Tabot Terbuang.

Latest News
Danau Dendam Tak Sudah (DDTS), can be translate with Never Ending Revenge lake is one of famous destinations in Bengkulu. This lake is settle in Dusun Besar village, Singaran Pati sub-district, Bengkulu and has an area of 557 and 67 hectare wide. The lake thought to have formed from volcanic activity in the area. By located in the strategic importance, in 1936 this lake was established as a nature reserve with an area of 11.5 hectares by the Dutch government. Then, in 1979, this nature reserve area has been expanded…
---
Danau Tujuh Warna Danau Tujuh Warna or Seven Colors Lake is located in Sumber Bening Village, Rimbo Pengadan, Bengkulu. Lake of Seven Colors can be taken approximately 35 km from the town of Muara Aman. Along the road to the location we'll be found many residents, a verdant tropical rain forests and hills which is the extend rows that can be seen from a distance. These hot springs contain lake which and represent the seven colors of Blue, Red, White, Grey, Yellow, Brown and Black. The huge lakes are those…
---
Tikus Island Tikus island or Mouse island is a small island that located on Bengkulu coastal waters and it part of Bengkulu province. This island is precisely located in west side of Bengkulu town. To reach this island, the visitors can ride the rental fisherman boat from Zakat beach or Tapak Pader beach, it takes 45 minutes. This island is clean and having beauty natural sightseeing, especially the water, which is very clear and sparkling. The visitors may see some fishes swimming around the coral which surround this small island…
---
Enggano Island Enggano Island is about 100 km southwest of Sumatra, Indonesia. It is about 35 km long from east to west and about 16 km wide from north to south. Administratively, it located on the North Bengkulu Regency. The three largest towns on the island are Barhau, Kabuwe and Kayaapu. The name of the island suggests some early contact with Portuguese traders (engano means disappoint), but the earliest published account was that of Cornelis de Houtman, dating from June 5, 1596, but he was unable to land a boat.…
---