Bengkulu Museum
---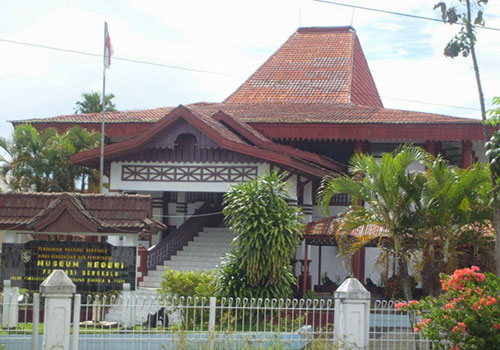 Bengkulu Museum is the only city museum in Bengkulu that often become an inextricable part of the city's history and culture. As a province and city once colonized by the British, Bengkulu holds the heritage of various cultures and nations combined in one place. Here in The Bengkulu Museum, we can find a vast collection of objects, images, audios and ancient texts.
Bengkulu Museum was first founded in 1978, and it became fully functional in 1980. It was originally housed in what was once Fort Marlborough, a fort built by the British in the early 18th century. Three years later, the museum was moved to a new building that was considered to be more efficient and better located.
There are ancient Sanskrit manuscripts from pre-colonial times, Bengkulu's unique Bersurek cloths with their Arabic calligraphy motifs, and artifacts of the time when Bengkulu was a British colony, is all can be found here.
By occupying an area of nearly 10,000 square meters, the museum currently consists of two main exhibition halls; the permanent exhibition and the temporary exhibition. The two galleries are dedicated to a collection of over 6,200 relics which are classed into 10 different categories. These include geology, biology, ethnography, history, technology, fine arts and more. Nearly half of this collection is classified under the ethnography category, which is to say, the study of culture. These cultural artifacts are objects of everyday life, such as traditional woven fabrics, ceremonial items and weapons. Some of these are still manufactured today, while others are obsolete and are no longer in use.
The museum is open to the public from Tuesday till Sunday at 08:00 - 13:00, and it is closed on Monday.
How to get there:
The Bengkulu Museum is easily accessible to all visitors via rental car or public transport. It is located just 9 kilometers from the airport, 19 kilometers from the port, or 3 kilometers from the bus terminal.

Latest News
Danau Dendam Tak Sudah (DDTS), can be translate with Never Ending Revenge lake is one of famous destinations in Bengkulu. This lake is settle in Dusun Besar village, Singaran Pati sub-district, Bengkulu and has an area of 557 and 67 hectare wide. The lake thought to have formed from volcanic activity in the area. By located in the strategic importance, in 1936 this lake was established as a nature reserve with an area of 11.5 hectares by the Dutch government. Then, in 1979, this nature reserve area has been expanded…
---
Danau Tujuh Warna Danau Tujuh Warna or Seven Colors Lake is located in Sumber Bening Village, Rimbo Pengadan, Bengkulu. Lake of Seven Colors can be taken approximately 35 km from the town of Muara Aman. Along the road to the location we'll be found many residents, a verdant tropical rain forests and hills which is the extend rows that can be seen from a distance. These hot springs contain lake which and represent the seven colors of Blue, Red, White, Grey, Yellow, Brown and Black. The huge lakes are those…
---
Tikus Island Tikus island or Mouse island is a small island that located on Bengkulu coastal waters and it part of Bengkulu province. This island is precisely located in west side of Bengkulu town. To reach this island, the visitors can ride the rental fisherman boat from Zakat beach or Tapak Pader beach, it takes 45 minutes. This island is clean and having beauty natural sightseeing, especially the water, which is very clear and sparkling. The visitors may see some fishes swimming around the coral which surround this small island…
---
Enggano Island Enggano Island is about 100 km southwest of Sumatra, Indonesia. It is about 35 km long from east to west and about 16 km wide from north to south. Administratively, it located on the North Bengkulu Regency. The three largest towns on the island are Barhau, Kabuwe and Kayaapu. The name of the island suggests some early contact with Portuguese traders (engano means disappoint), but the earliest published account was that of Cornelis de Houtman, dating from June 5, 1596, but he was unable to land a boat.…
---