Sigolo Golo Cave
---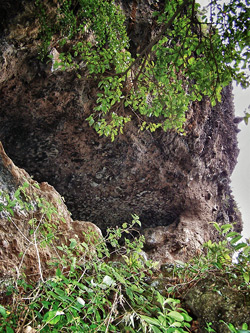 What make something interesting of this cave is the visitors must pass a real footpath complicated length and must take a ride the stones on the cave's wall before reaching the cave. This journey is very compatible for visitor who loving nature and like challenge, because along the length of journey, they will pampered by the greenness of natural forest which so friendly and although on the left and right side is crevasses, but it is not fearful.
Sigolo Golo cave, is located in Sranten sub-village, Panglungan village, Wonosalam district, Jombang. It can reached using motorcycle or car, but to come to the cave, we go on foot. The cave which has 9 meters length and 10 meters width, for its development is very frequent visited because the uniquely and its history value.
From those various story about the cave, it is said that this cave is a place of Patih (docile) Maudoro meditation, Damar Wulan's father in Majapahit era. In his meditation, Patih Maudoro always pray for people and Majapahit nation for always given safety and welfare from God, beside that the meditation is also has purpose for strength of own self spiritual in order to get good personality in his life.
Seen from its history, the moral value is what a persistent struggle in Majapahit era which being knocked by Patih Maudoro and if we implement with condition of this nation, at least Goa SigoloGolo can note a history of nation. That history needs to be byword.
Hence, it is not strange, that Goa Sigolo Golo, besides its beautiful nature, it also create a good personality of man. It is proved that this cave is become a place of meditation people with good wishes. If its intention is bad wishes, it is possible that man will get an accident, and he does not get his wishes.
Photo Gallery

Latest News
Remo Dance Remo dance is originating from Jombang regency, East Java. At early begin, this dance was used as an opening show before Ludruk show. In times, this dance is practically performed as a welcome dance in special occasion like state ceremonies and local arts festival. Remo dance is telling about the struggle of a prince in a battle. Hence, this dance is performed by a man, or today, it is performed by a woman who dressed up like a man. By that case, today, there is a type of…
---
Remo Dance Remo dance is originating from Jombang regency, East Java. At early begin, this dance was used as an opening show before Ludruk show. In times, this dance is practically performed as a welcome dance in special occasion like state ceremonies and local arts festival. Remo dance is telling about the struggle of a prince in a battle. Hence, this dance is performed by a man, or today, it is performed by a woman who dressed up like a man. By that case, today, there is a type of…
---
Mojowarno Church Mojowarno's Eastern Javanese Christian Church, a history witnesses whom stands still through times changes. As if almighty God whom stays inside, to be a King and a Father. The quotation above is come from the verse of the Bible, which shows the communities' submission from its local inhabitant, whose trying so hard to construct the church to be an appropriate Abode. Starting from the hidden little garden, this Church was build. By being a minority in the middle of differences, this modesty church had transform dynamically with the…
---
Sayid Sulaiman Grave Friday 'Legi' (one of Javanese's days) Night, the easier expression to remember a ritual activity of pilgrimage to Mbah Sayyid Sulaiman grave, which attended by thousands of people who coming from various place. It is beginning when Mbah Sayyid take hold as Wodli in Kanigoro, Pasuruan. When he had pilgrimage to waliulloh Mbah Raden Alif grave in Mancilan, Mojoagung, he was sick and finally he passed away in that place. This graveyard is in Mancilan, Mojoagung district. Moreover, it is easy to visit, because we can use…
---