Puncak
---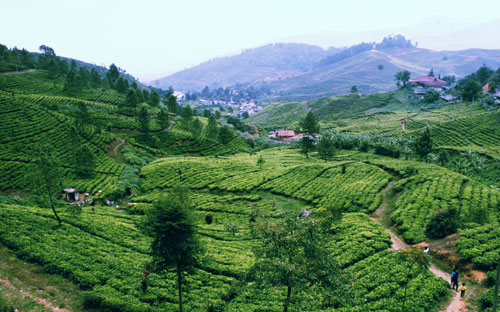 Between Bandung and Bogor in the mountains lays Puncak, a cool area, which is very popular. People from Jakarta spend their weekend and on public holidays from the heat and busy streets of the capitol of Indonesia to Puncak. Bandung to Puncak takes about 3 hours drive. Puncak Pass area has long been the foremost weekend retreat for Indonesians capital city residents. The cool, fresh air, and the magnificent view offer a calm, fresh and peaceful feeling. In the afternoon, sunsets from the top of the pass can be quite spectacular.
Puncak Pass is one of interesting destination in the West Java Province. It is located in the south of Jakarta and can be reached by an hour journey. Puncak is an ideal place for weekend, as well as a good location to find a fresh mountain air. Besides, many attractions can be found nearby, such as the Bogor and Cobodas Botanical Gardens; the Gede Pangrango National Park; the Plantations and the Safari Park.
Puncak Indah consists of three districts: Ciawi, Megamendung, Cisarua. The area is familiar with its fresh air and beautiful panorama. From Ciawi to Cipanas, there are many bungalows, hotels, motels, restaurants, and other tourism facilities. Tourisms object in Puncak is Lido Park, which is located in Cigombong village/Wates Jaya (km. 21) Rd. Ciawi-Sukabumi, Cijeruk. Facilities that are provided in Lido Park ara restaurant, cottages, swimming pools, camping grounds, and other facilities for lake recreations. Gunung Mas XII Plantation, which is located in Rd. Puncak, Cisarua district. It offers panorama with hilly panorama, which could only be found in Puncak. Activities that could be done are tea walk and seeing the making of the tea from the picking of tea until the tea is ready to serve.

Latest News
In the Journal of Nature (a scientific journal of high repute), Mounce et al (2017) revealed, widely that Botanical Gardens around the world have collected at least 105,634 species or equivalent to 30% of all known plant diversity worldwide. However, it was also disclosed that there are an estimated 75% of species that have not been conserved in the tropics. Therefore, the Bogor Botanical Gardens which incidentally located in the tropics and are included in the oldest botanical gardens in Southeast Asia, must be able to answer the conservation challenges…
---
The Bogor Botanical Gardens are the only natural destination in the middle of Bogor city with 87 hectares area. The transportation support capacity is very adequate to access this tourist location. Easy toll access and public transportation access are widely available, which are added values ??for the existence of this tourist location. The existence of the Bogor Botanical Gardens itself cannot be separated from the historical value of the existence of the Dutch in the colonial period, where it is known that the Bogor Botanical Gardens was founded by the…
---
Ranca Upas is one of the tourist destinations in Bandung. Here you can camp while looking at the herd of deer and stunning scenery. Ranca Upas is a tourist spot located in Rancabali District, Bandung Regency, West Java. Ranca Upas is also known as campground, which is a favorite place for nature lovers. At Ranca Upas you can camp in the meadow on a hill of about 1700 meters above sea level. The view in the morning really amazes like being abroad. Moreover, the cool air makes the atmosphere more…
---
Last year, the waterfall or in local language called as 'curug', became a very popular tourist destination for tourists. Its presence in remote areas makes tourists more curious and feels challenged to reach it. Local waterfalls are also crowded because at that time Indonesian citizens were hit by boredom due to the Corona virus pandemic which forced them to cancel their vacation plans. West Java is not only famous for its beautiful beaches and mountains. The area, which is divided into 18 districts and nine cities, also has tourism potential…
---