Pelabuhan Ratu Beach
---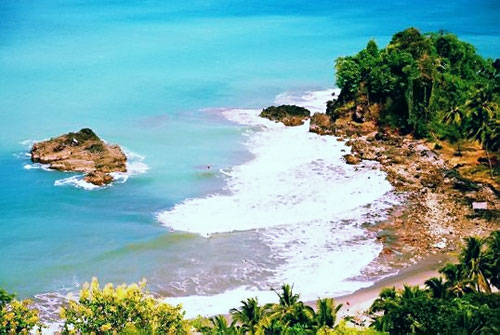 Pelabuhan Ratu is a lovely holiday resort, visited by holidaymakers from Jakarta and Bandung. The site is only three-hour drive from either city through cool mountain villages with picturesque sceneries. Pelabuhan Ratu - Cisolok is a 15 km stretch of breathtaking beauty with hills, mountains and very wide sandy beaches everywhere around, set against the deep blue Indian Ocean. Right next to stretches of white beaches, visitors will find thick tropical forests on rolling hills. Taking walks uphill enables the visitor to look down on the horseshoe shape of the bay's coastline, whereas at night hundreds of fishermen's boat-lamps are seemingly competing with the star-studded sky above, which is both enchanting and romantic. There is one four-star hotel, Samudera Beach, about 6 km from Pelabuhan Ratu, but several other smaller hotel and cottages are available at moderate rates.
At this virgin stage, this area represents unspoiled beauty in a typically tropical setting with hospitable inhabitants. Because of its proximity to Jakarta, more tourists visit this area from the capital than those from Bandung. Moreover, the highways to and from Pelabuhan Ratu have recently been greatly improved to assure the visitor of a smooth ride to enjoy the sceneries that pass even well. Good for taste, swimming, sun bathing and surfing.
The picturesque fishery village, more than 50 kilometers southwest of Sukabumi, is home to the mysterious goddess of the South Sea, Nyai Roro Kidul. The legend tells that the sea in Karanghawu would have taken her, 14 kilometers to the west. Pelabuhan Ratu ('seaport of the queen') is located in a wide bay, which has had the name 'Wijnkoopsbaai'. During the weekends this village is overloaded with visitors from Jakarta. It's not advised to take a bath in the domain of the goddess, and especially not in green clothes. Green is the favorite color of Nyai Roro Kidul and wearing it is an invitation for her to take that person to the depths of the ocean.

Latest News
In the Journal of Nature (a scientific journal of high repute), Mounce et al (2017) revealed, widely that Botanical Gardens around the world have collected at least 105,634 species or equivalent to 30% of all known plant diversity worldwide. However, it was also disclosed that there are an estimated 75% of species that have not been conserved in the tropics. Therefore, the Bogor Botanical Gardens which incidentally located in the tropics and are included in the oldest botanical gardens in Southeast Asia, must be able to answer the conservation challenges…
---
The Bogor Botanical Gardens are the only natural destination in the middle of Bogor city with 87 hectares area. The transportation support capacity is very adequate to access this tourist location. Easy toll access and public transportation access are widely available, which are added values ??for the existence of this tourist location. The existence of the Bogor Botanical Gardens itself cannot be separated from the historical value of the existence of the Dutch in the colonial period, where it is known that the Bogor Botanical Gardens was founded by the…
---
Ranca Upas is one of the tourist destinations in Bandung. Here you can camp while looking at the herd of deer and stunning scenery. Ranca Upas is a tourist spot located in Rancabali District, Bandung Regency, West Java. Ranca Upas is also known as campground, which is a favorite place for nature lovers. At Ranca Upas you can camp in the meadow on a hill of about 1700 meters above sea level. The view in the morning really amazes like being abroad. Moreover, the cool air makes the atmosphere more…
---
Last year, the waterfall or in local language called as 'curug', became a very popular tourist destination for tourists. Its presence in remote areas makes tourists more curious and feels challenged to reach it. Local waterfalls are also crowded because at that time Indonesian citizens were hit by boredom due to the Corona virus pandemic which forced them to cancel their vacation plans. West Java is not only famous for its beautiful beaches and mountains. The area, which is divided into 18 districts and nine cities, also has tourism potential…
---