Jatiluhur Dam
---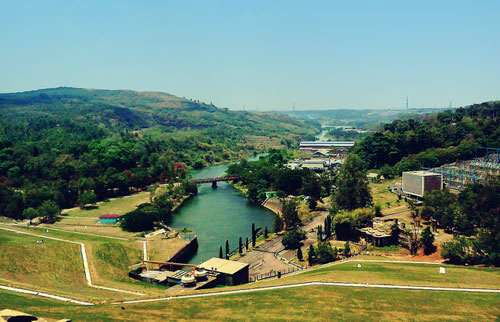 Purwakarta is a part of West Java, a small district with its beautiful scenery of Jatiluhur Dam. It is located 9 kilometers from Purwakarta, is known as Juanda Dam, which could accommodate 3 billion cubic of water from Citarum River. Situated halfway between Jakarta and Bandung, this dam was originally built with French technical assistance in the 1950's to generate electrical power for the region. It is the first multipurpose dam in Indonesia. It now provides irrigation to the surrounding Arabic land and a fishery industry has been developed as well. It is now being developed for tourism and provides convenient facilities such as swimming pools, tennis courts, a camping ground, and speedboats for water skiing and cottages. The reservoir is huge, the scenery tropical, the air crisp and cool.
In the dam, there are six turbine units with installed capacity of 187 megawatts and could generate electricity of 1,000 million kilowatt ours per year. Besides, the dam functions to feed water to irrigation channel of 242,000 hectares of farming land provide raw water for drinking water, as fishery and as flood control.
Grama Tirta is a place where we can enjoy our holiday doing various kinds of outdoor sporting activities. Enjoy a morning walk at Jatiluhur Dam, inhaling the crisp fresh air. Let the cool morning dew on the grass and melodious songs of bird greet in each morning. Catch a glimpse of our Morning Glory and its breathtaking beauty will inspire us to new heights.
For those who love water sports and recreation, 8,300 hectares dam with its year round crystal clear waters, will be difficult to resist. Climb into a paddleboat to explore the Jatiluhur Dam, or just sit back and relax in a motorboat to experience the great outdoors. And if speed and challenge are what we are looking for, the fleet of jet skis will propel the tourists to all corners of the lake.
Asides from its function as hydro power plant, Jatiluhur dam also has a number of recreation facilities including hotels, bungalow, bar and restaurant, tennis court, billiard, camping site, swimming pool, meeting room, water sport recreation center, playground etc. Water sport recreation center includes rowing, surfing, water ski, boating and shipping. In Jatiluhur dam, there is a Ikan Keramba Jaring Apung or Keramba Fish Floating Net activity, that could become a distinguished activity in the dam. In the daylight or at night, we can fish with peace and eat roasted fishes.

Latest News
In the Journal of Nature (a scientific journal of high repute), Mounce et al (2017) revealed, widely that Botanical Gardens around the world have collected at least 105,634 species or equivalent to 30% of all known plant diversity worldwide. However, it was also disclosed that there are an estimated 75% of species that have not been conserved in the tropics. Therefore, the Bogor Botanical Gardens which incidentally located in the tropics and are included in the oldest botanical gardens in Southeast Asia, must be able to answer the conservation challenges…
---
The Bogor Botanical Gardens are the only natural destination in the middle of Bogor city with 87 hectares area. The transportation support capacity is very adequate to access this tourist location. Easy toll access and public transportation access are widely available, which are added values ??for the existence of this tourist location. The existence of the Bogor Botanical Gardens itself cannot be separated from the historical value of the existence of the Dutch in the colonial period, where it is known that the Bogor Botanical Gardens was founded by the…
---
Ranca Upas is one of the tourist destinations in Bandung. Here you can camp while looking at the herd of deer and stunning scenery. Ranca Upas is a tourist spot located in Rancabali District, Bandung Regency, West Java. Ranca Upas is also known as campground, which is a favorite place for nature lovers. At Ranca Upas you can camp in the meadow on a hill of about 1700 meters above sea level. The view in the morning really amazes like being abroad. Moreover, the cool air makes the atmosphere more…
---
Last year, the waterfall or in local language called as 'curug', became a very popular tourist destination for tourists. Its presence in remote areas makes tourists more curious and feels challenged to reach it. Local waterfalls are also crowded because at that time Indonesian citizens were hit by boredom due to the Corona virus pandemic which forced them to cancel their vacation plans. West Java is not only famous for its beautiful beaches and mountains. The area, which is divided into 18 districts and nine cities, also has tourism potential…
---