Garut
---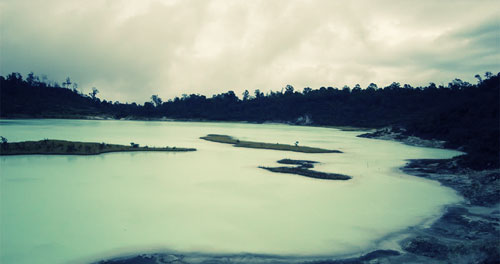 Garut is an Old Dutch hill station and a characteristic Sundanese town in the highlands, surrounded by mountains, volcanoes, and crystal clear lakes. Garut's Hindu temples and hot springs are often the destination for hikers attracted by spectacular views from the mountaintops. The choices of where to plan the next trek in the area are as varied as the sights along the way. Some like to hike across to Mount Telaga Bodas with its pale-green Crater Lake bubbling with pure sulfur. This cool place can be reached from Bandung in approximately one hour. Due to the scenic beauty of this there are many places of interest for nature lovers. The northern part of the region is reserved for the development of the city of Garut while the southern region is rich with a beautiful coastline, nature preserves and beautiful scenery. Since the time of the Dutch occupation, this region has been developed as a resting place.
The inhabitants of Garut are mostly Moslems and more than half of the people live on farming. The specific food from this place, which is very famous, is "dodol Garut", a sweet food made from sticky rice flour and sugar with various flavorings. This food is offered in different wrappings and can be store for a long time. In the past, Garut was also famous for its high quality oranges.
The hot springs resort at Cipanas has comfortable accommodations. Many people visit these laden springs, which have medicating effects to purify their skin. Mount Papandayan's crater is probably one of the most spectacular mountain scenes on Java Island. There is the Cangkuang temple situated by Cangkuang Lake, which was a major discovery of archaeological value as it was the first of its kind found in West Java, dating back to the 8th century. The site is located 17 km from Garut and 50 km from Bandung.
Garut has a specific cultural attraction, the "Ram Fight". Two strong male Ram, with big, long and strong horns are made to fight against each other in the center of a arena, usually in a field, accompanied by "Kendang Pencak" music. There are three centers for ram high performances: in the districts of Bayongbong, leles and Samarang. The participants mostly come from the surrounding place. In Garut there are a lot of interesting places to visit, some have been developed, some others are being developed and there are places, which are still left natural.

Latest News
In the Journal of Nature (a scientific journal of high repute), Mounce et al (2017) revealed, widely that Botanical Gardens around the world have collected at least 105,634 species or equivalent to 30% of all known plant diversity worldwide. However, it was also disclosed that there are an estimated 75% of species that have not been conserved in the tropics. Therefore, the Bogor Botanical Gardens which incidentally located in the tropics and are included in the oldest botanical gardens in Southeast Asia, must be able to answer the conservation challenges…
---
The Bogor Botanical Gardens are the only natural destination in the middle of Bogor city with 87 hectares area. The transportation support capacity is very adequate to access this tourist location. Easy toll access and public transportation access are widely available, which are added values ??for the existence of this tourist location. The existence of the Bogor Botanical Gardens itself cannot be separated from the historical value of the existence of the Dutch in the colonial period, where it is known that the Bogor Botanical Gardens was founded by the…
---
Ranca Upas is one of the tourist destinations in Bandung. Here you can camp while looking at the herd of deer and stunning scenery. Ranca Upas is a tourist spot located in Rancabali District, Bandung Regency, West Java. Ranca Upas is also known as campground, which is a favorite place for nature lovers. At Ranca Upas you can camp in the meadow on a hill of about 1700 meters above sea level. The view in the morning really amazes like being abroad. Moreover, the cool air makes the atmosphere more…
---
Last year, the waterfall or in local language called as 'curug', became a very popular tourist destination for tourists. Its presence in remote areas makes tourists more curious and feels challenged to reach it. Local waterfalls are also crowded because at that time Indonesian citizens were hit by boredom due to the Corona virus pandemic which forced them to cancel their vacation plans. West Java is not only famous for its beautiful beaches and mountains. The area, which is divided into 18 districts and nine cities, also has tourism potential…
---