Banten Province
---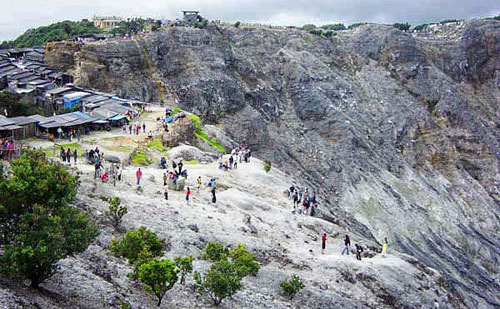 Geographically
Geographically, West Java Province is situated between 5 50'-7 50' South parallels and 104 48'-104 48 East meridians. West Java Province is bordered of:
North side: Java Sea and Jakarta
West side: Banten Province and Hindia Ocean
South side: Hindia Ocean
East side: Central Java Province.
This strategic geographical condition is an advantage for West Java particularly in communication and transportation. Northern region is plain area, while southern part is a hilly area with beaches, and the middle region is mountainous area. But after the establishment of Banten Province, the size of West Java becomes 35,746.26 kilometer square.
Topography
West Java has a characteristic as part of a volcanic belt, which spans from Sumatra Island to the northern part of Sulawesi Island. Its land can be divided into a region with steep mountains with altitude of more than 1,500 meter above the sea level in the South, moderate hill with elevation of 100 to 1,500 meters, and plain region in the north with elevation between 0 and 10 meters and river region.
Climate
West Java has tropical climate with temperature reaching 9 degrees Celsius at the Peak of Mount Pangrango and 34 degrees Celsius in north beach. The average rainfall is at 2,000 millimeters per year, but in the mountainous areas the rainfall could reach 3,000 to 5,000 millimeters per year.
Population
Based on the national census in 1999, West Java population after the separation of Banten stood at 34,555,622 people. In 2000, based on another census, the population grew to 35,500,611 people with population density of 1,022 inhabitants per square kilometer. The population growth between 1990 and 2000 reached 2.17 %. In 2003, the population has increased to 38,059,540 people with population density of 1,064 inhabitants per square kilometer.

Latest News
In the Journal of Nature (a scientific journal of high repute), Mounce et al (2017) revealed, widely that Botanical Gardens around the world have collected at least 105,634 species or equivalent to 30% of all known plant diversity worldwide. However, it was also disclosed that there are an estimated 75% of species that have not been conserved in the tropics. Therefore, the Bogor Botanical Gardens which incidentally located in the tropics and are included in the oldest botanical gardens in Southeast Asia, must be able to answer the conservation challenges…
---
The Bogor Botanical Gardens are the only natural destination in the middle of Bogor city with 87 hectares area. The transportation support capacity is very adequate to access this tourist location. Easy toll access and public transportation access are widely available, which are added values ??for the existence of this tourist location. The existence of the Bogor Botanical Gardens itself cannot be separated from the historical value of the existence of the Dutch in the colonial period, where it is known that the Bogor Botanical Gardens was founded by the…
---
Ranca Upas is one of the tourist destinations in Bandung. Here you can camp while looking at the herd of deer and stunning scenery. Ranca Upas is a tourist spot located in Rancabali District, Bandung Regency, West Java. Ranca Upas is also known as campground, which is a favorite place for nature lovers. At Ranca Upas you can camp in the meadow on a hill of about 1700 meters above sea level. The view in the morning really amazes like being abroad. Moreover, the cool air makes the atmosphere more…
---
Last year, the waterfall or in local language called as 'curug', became a very popular tourist destination for tourists. Its presence in remote areas makes tourists more curious and feels challenged to reach it. Local waterfalls are also crowded because at that time Indonesian citizens were hit by boredom due to the Corona virus pandemic which forced them to cancel their vacation plans. West Java is not only famous for its beautiful beaches and mountains. The area, which is divided into 18 districts and nine cities, also has tourism potential…
---