White Mountain in Bulungan Regency, North Kalimantan Province
---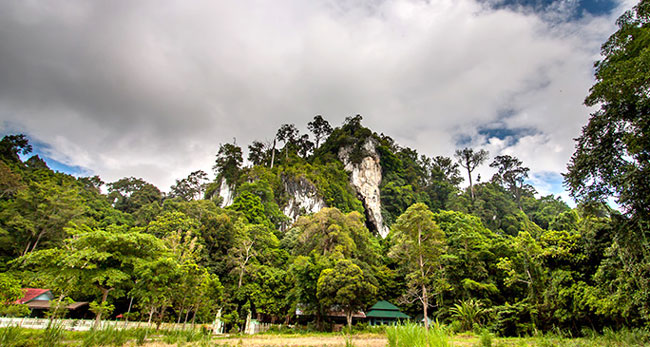 Bulungan Regency becomes a significant tourist allure in North Kalimantan Province. The region has many nice vacation spots to enjoy a relaxing holiday, after all. For example, there is the famous Gunung Putih at Tanjung Palas Sub-District. The exact location is in Pejalin Village, actually. In terms of name, "Gunung" means mountain while "Putih" means white. As the name suggests, the site offers a beautiful and majestic white mountain with its natural panorama. It also becomes the home of a famous cave, where tourists can visit later. As other tourist activities, visitors are able to enjoy relaxation, photography, sightseeing, trekking, and exploration.
The Nuance
Some tourists may wonder how the mountain got its white color. The fact is the mountain consists of a vast limestone landscape. Not to mention it features many natural reliefs. Somehow, it looks like featuring lots of beautifully carved cliffs. In terms of nuance, it feels peaceful and comfortable. The reason is the mountain is surrounded by lots of trees and local farms. In order to get the best panorama, tourists should reach the top of the mountain though. The scenery including a small river located on the side of the mountain, big mountains, and lush green plants.
Exploring White Mountain
Once arriving at the foot of White Mountain, tourists may see a stunning and serene panorama. At the side of the mountain, even a small river resides with its big river stones. Thus, before going further, tourists must rest for a while in that spot. Some people even get in the refreshing river and take a bath in it! Here is the next feature. The mountain is also surrounded by local farms and some small traditional a few small houses. Thus, it doesn't look as secluded as tourists may expect.
The best thing to do in White Mountain is none other than trekking. Tourists don't have to reach the top of the mountain, though. They can simply visit some recommended spots for sightseeing and photography. Here is the reference. An underground cave resides in the back of a mountain slope. According to the locals, it only takes around 15 minutes to reach that location. Have no worries. The panorama looks wonderful from that spot, too.
Some people visit White Mountain for rock climbing these days! One thing, tourists must carry and prepare the equipment beforehand. Also, beginners should come with an instructor or experienced people. Those who don't like rock climbing, they can take advantage of available stairs in order to reach Burung Cave and visit sightseeing spots.
Nearby Attractions

Keburau Mountain
Long Pin Waterfall
How to Get There
Tourists should take an airplane if they want to get to Bulungan Regency fast. From Jakarta City (Soekarno – Hatta International Airport), a flight to Tanjung Harapan Airport at Tanjung Selor City would take around 1 day and 11 hours. From Tanjung Harapan, their next destination would be Bulungan City. This can be done by local transportation service, actually. The distance is 93.1 km, so the trip takes about 2 hours and 10 minutes. As for the best route, it is Ahmad Yani Street. From Bulungan, the last destination is White Mountain at Pejalin Village. This trip takes approximately 35 minutes, as the distance is 28.4 km.
Where to Stay