Bunyu Island in Bulungan Regency, North Kalimantan Province
---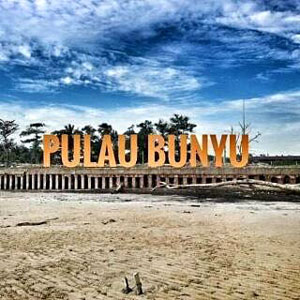 Bunyu Island is part of Bulungan Regency and it offers many beautiful vacation spots to tourists. Even though tourists need to ride a boat in order to get to the island, they won't regret the trip. The presence of a reliable pier and boat service makes it easier to reach the island. What about tourist activities? Commonly, visitors want to enjoy a relaxing nuance at local beaches like Seikura, Serdang, and Nibung Beach. Some people also want to enjoy other activities like water sports, swimming, photography, and relaxation. The island is suitable for those activities, without a doubt.
The Nuance
Bunyu Island features several beautiful landscapes that tourists can enjoy during the visit. The most noticeable one is definitely the stunning shore with its majestic blue water. The waves are considered moderate, so water sports are quite recommended. The shoreline features a soft-textured landscape with light brown color. When it comes to the lands, they are covered by lush bushes and some trees. Visitors can even find a mangrove forest there! Not to mention a pier resides in that area. In terms of size, the island has a total area of 198.32 km per square.
Exploring Bunyu Island
It is true that tourists must take a boat or speedboat in order to get to Bunyu Island. Despite the effort, the reward is quite astonishing. For instance, tourists would find several exotic beaches there including Nibung, Seikura, and Serdang Beach. All of them are indeed beautiful, but features distinct waves and nuance. Thus, all tourists must not miss those shorelines. As an alternative, they can simply enjoy sightseeing at Tidung or Cinta Pier. Watching sea scenery and fishing are the best activities in that spot.
The next allure in Bunyu Island is definitely a local life. For the information, many tribes live in that area. The indigenous people are Tidung Tribe, while immigrants consist of Sulawesi and Javanese Tribe. These people take advantage of rich natural resources in order to support their economy, especially fishes. No wonder, tourists may see many fishermen while visiting the shore later. Also, the island is known for its mangrove forest where several bekantan or proboscis monkeys live. This exotic animal becomes a great object for photography, no?
What is more? Many people visit Bunyu Island in order to enjoy local culinary. Some of the popular foods that tourists can enjoy are satay, gado-gado, grilled fishes, and Coto Makassar. All of them taste great and has a distinct texture. As for the price, it is considered affordable. The most expensive one is Coto, so tourists must carry enough cash when visiting Bunyu later.
Nearby Attractions

Tidung Pier
Bunyu Mangrove
Goa Hira Mosque
How to Get There
The first destination is Tanjung Selor City, which is the capital of North Kalimantan Province. Tourists can get there fast by airplane, actually. For those coming from Jakarta City, they must get an airplane service at Soekarno – Hatta International Airport and head to Tanjung Harapan Airport right away. This flight may take around 1 day and 11 hours! Once arriving at Tanjung Harapan, the next destination is Bulungan Regency. The best route is Ahmad Yani Street and the distance is 93.1 km. That means the trip may take around 2 hours and 9 minutes. Lastly, they must visit a local port and get a boat service that heads to Bunyu Island.
Where to Stay

Alfu Inn
Nibung Lama Inn
Nibung Baru Inn
Harapanku Hotel

Latest News
  Since 1994, they have spent most of their  life as field guides deep in the jungle and river of Borneo, with this years experiences also they are growing up in the fields as Wildlife and Culture tour guides, which know well about the adventure in Borneo and supported by their impressive and solid background of the team with depth and breadth of knowledge and experiences in the rain forest and animals, especially Orangutan. The teams are also have been voluntary for Orangutan for few years. Their adventures tour packages…
---
Samarinda Samarinda is a city in East Borneo which also an official capital city for East Borneo province. The whole area of the city is directly border to the Kutai Kartanegara Regency. There are some historical time-lines that remain the build of Samarinda city from the early time until this present time. It start from Bungaya agreement to the arrival of the Bugis to the Sultanate of Kutai, this Wajo Bugis people are living in Samarinda at the beginning of the year 1668 or precisely in January 1668 that as…
---
Banjarmasin Banjarmasin is one of the Indonesia cities and the capital of South Kalimantan province. The original name of Banjar is Banjar-Masih, in 1664 in the Dutch wrote Banjarmasch. Banzjarmasch then turn to be Bandjermassing/Bandjer Massing/Banjermassing/Bandjarmassingh, then Bandjermasin/Banjir Massin/Banjarmassin/Banjarmatsin/Bandjarmasin, in new spelling to be Banjarmasin. Another name of Banjarmasin is Tatas, were taken from the name of the delta islands that make up the downtown area of Banjarmasin. This city is sometimes called as River City, for there are lots of river which flows in this area. The local inhabitant…
---
Dayak People Dakay people or Daya or Dyak are the indigenous peopleof Borneo Island, Indonesia. They live in groups in mountains, outbacks and they are such a terrestrial group, a group who live in land, not in marine zone. Dayak people are divided into some sub-ethnics that have different language and even different way of living. Shortly, Dayak is referred to Ngaju People or Ot Danum tribe who stays in South Borneo. While, in general, Dayak is referred to the 6 tribes of Dayak; [Kenyah-Kayan-Bahau],[Ot Danum],[Iban],[Murut],[Klemantan] and [Punan]. Those six…
---