Long Beluah Rafting in Bulungan Regency, North Kalimantan Province
---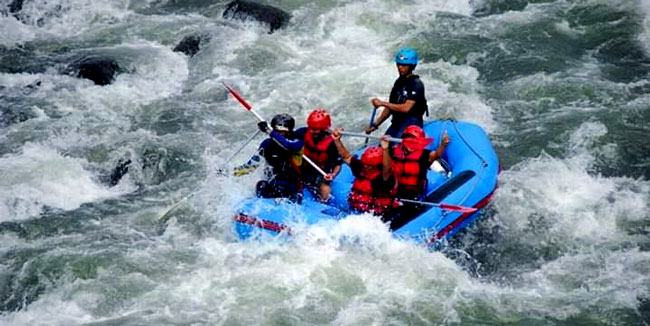 In Bulungan Regency, tourists may find a famous village called Long Beluah. The location is in West Tanjung Palas Sub-District and it has a high number of visitors, especially tourists. One of the reasons why tourists keep coming to the location is the rafting opportunity! This fun activity is suitable for those who love extreme and challenging sports, for sure. Despite the fact, beginners and regular people can also enjoy it. Thanks to the excellent service and high-quality equipment. It is considered safe for everyone, therefore, regardless of the experience.
The Nuance
Long Beluah Rafting becomes the best and only spot to enjoy rafting. No wonder, it has become quite popular over time. Actually, tourists can find two checkpoints to enjoy the activity. They are Giram Kerabang and Giram Gaharu. For experts and experienced rafter, they should pick the first one (which is the longest). The duration would take around 1 hour. As an alternative, they can choose the other. As for the nuance, the river has strong currents and brown murky water. Here is an issue. The number of inflatable boat and equipment is limited, so tourists should queue during holidays or weekends (when many people come to the site for rafting).
Exploring Long Beluah Rafting
The prime reason to visit Long Beluah Rafting is indeed to enjoy rafting. What about swimming? Well, the river is too dangerous for swimming due to strong currents. On the other hand, riding an inflatable boat with others would give a memorable experience. It is both fun and challenging! For beginners, though, they must choose a safer Giram or river course. The name is Giram Gaharu and it has the length of about 500 meters. Not to mention the current is friendlier.
For those who have enjoyed rafting for years, they can choose a more challenging river course then. The name is Giram Kerabang and it has the length of 1 km. Also, the current is stronger and riskier. Have no worries. The inflatable boat has a nice quality and the management gives a professional service. That means all tourists can enjoy the activity in a safe manner, even though they choose a harder level.
Before heading to Long Beluah Village for rafting, tourists should have several considerations. For example, they must come when the water is low. It is because the current becomes weaker, which is suitable for beginners. However, experienced rafter won't like it. They choose a stronger current, which is considered more challenging.
Nearby Attractions

Keburau Mosque
Long Beluah Village
How to Get There
It is a known fact that tourists must head to Long Beluah Village in order to enjoy Keburau Rafting. However, they should reach several checkpoints first before getting there (especially for those coming from outside Kalimantan Island). From Jakarta City, for example, tourists should get an airplane service at Soekarno – Hatta International Airport and reach Tanjung Harapan Airport at Tanjung Selor City. This flight takes approximately 1 day and 11 hours, actually. Next, they must get a local transportation service and head to Bulungan, which may take around 2 hours and 9 minutes. The distance is 93.1 km and the best route is Ahmad Yani Street. From Bulungan, the last destination is none other Long Beluah Village where the rafting service resides. This trip may take around 3 hours.