Bulungan City in Bulungan Regency, North Kalimantan Province
---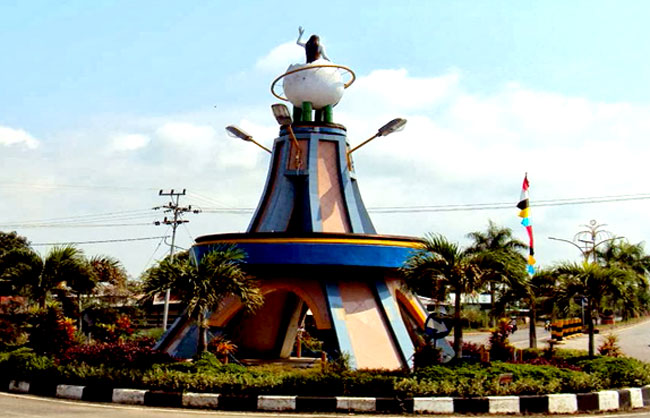 Bulungan City is a nice destination when tourists want to spend a relaxing vacation in North Kalimantan Province. It is because visitors can get many benefits, including learning history, enjoying local foods, watching traditional performances, visiting beautiful places, and many more. In the past, Bulungan belonged to East Kalimantan Province, in fact. The locals are friendly and the region features an excellent transportation service. Outsiders can also access the region easily either by boat or airplane! Later, tourists have the chance to meet local tribes and visit traditional farms, husbandry, and fishery, too!
The Nuance
In terms of nuance, Bulungan City is indeed merry due to a high number of people who live there. The total area is about 13,181 km per square! It is also bordering with other regions like Tarakan, Tana Tidung, Malinau, and Berau. No wonder, tourists are able to access it easily regardless of where they come from. The region also features mountains, hills, cliffs, and other beautiful landscapes! This explains why tourists are able to enjoy natural exploration and trekking in some parts of the region, later.
Exploring Bulungan City
Natural exploration becomes the most recommended thing to do in Bulungan Regency. Thanks to the beautiful natural landscape. Visitors can enjoy at least photography, trekking, and sightseeing. They can even cross the sea and visit a famous island called Mandul. Later, they must visit the longest river called Kayan. As for hiking and trekking, the best destination is definitely Kundas Mountain, which is the tallest mountain in Bulungan. The location is in Peso Sub-District, actually.
Some tourists also take advantage of agriculture, fishery, and culture in Bulungan City in order to satisfy their vacation experience. Some parts of the region consist of local farms, after all. The potential remains well until now! As an alternative, tourists should visit local fisheries where they can see the breeding activity right away. As for local culture, the most famous one perhaps is Birau Tradition. The locals conduct this ceremony to show a gratitude to God. It even has an interesting history, so tourists should ask villagers about it later.
For those who never visit Bulungan City should have considerations first. For example, it is related to the weather. Most of the time, the region is hot and dry. That means tourists must prepare some money to buy fresh drinks during the exploration. Another consideration is related to the service. Everyone should consider hiring a local guide for a better and more efficient exploration!
Nearby Attractions

Keburau Mosque
Gunung Putih
Baiturrohman Mosque
How to Get There
It is considered easy to get to Bulungan City, as long as tourists find the right transportation service. The first destination is Tanjung Selor City (the capital of North Kalimantan Province). For those coming from Jakarta City, a flight from Soekarno – Hatta International Airport to Tanjung Harapan Airport may take about 1 day and 11 hours. From the airport, a trip to Bulungan City may take around 2 hours and 10 minutes. It is because the distance is 93.1 km. As for the best route, it is recommended to take Ahmad Yani Street.
Where to Stay

Pelangi Indah Hotel
Bahagia Hotel
Lamin Hotel

Latest News
  Since 1994, they have spent most of their  life as field guides deep in the jungle and river of Borneo, with this years experiences also they are growing up in the fields as Wildlife and Culture tour guides, which know well about the adventure in Borneo and supported by their impressive and solid background of the team with depth and breadth of knowledge and experiences in the rain forest and animals, especially Orangutan. The teams are also have been voluntary for Orangutan for few years. Their adventures tour packages…
---
Samarinda Samarinda is a city in East Borneo which also an official capital city for East Borneo province. The whole area of the city is directly border to the Kutai Kartanegara Regency. There are some historical time-lines that remain the build of Samarinda city from the early time until this present time. It start from Bungaya agreement to the arrival of the Bugis to the Sultanate of Kutai, this Wajo Bugis people are living in Samarinda at the beginning of the year 1668 or precisely in January 1668 that as…
---
Banjarmasin Banjarmasin is one of the Indonesia cities and the capital of South Kalimantan province. The original name of Banjar is Banjar-Masih, in 1664 in the Dutch wrote Banjarmasch. Banzjarmasch then turn to be Bandjermassing/Bandjer Massing/Banjermassing/Bandjarmassingh, then Bandjermasin/Banjir Massin/Banjarmassin/Banjarmatsin/Bandjarmasin, in new spelling to be Banjarmasin. Another name of Banjarmasin is Tatas, were taken from the name of the delta islands that make up the downtown area of Banjarmasin. This city is sometimes called as River City, for there are lots of river which flows in this area. The local inhabitant…
---
Dayak People Dakay people or Daya or Dyak are the indigenous peopleof Borneo Island, Indonesia. They live in groups in mountains, outbacks and they are such a terrestrial group, a group who live in land, not in marine zone. Dayak people are divided into some sub-ethnics that have different language and even different way of living. Shortly, Dayak is referred to Ngaju People or Ot Danum tribe who stays in South Borneo. While, in general, Dayak is referred to the 6 tribes of Dayak; [Kenyah-Kayan-Bahau],[Ot Danum],[Iban],[Murut],[Klemantan] and [Punan]. Those six…
---