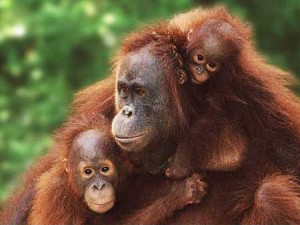 Leuser Mountain National Park
Taman National Gunung Leuser or TNGL or Leuser Mountain National Park is a natural preservation in Indonesia, which administratively located in Aceh Province and North Sumatra.
The area in Aceh Province which includes TNGL is southwest Aceh, South Aceh, Aceh Singkil, Southeast Aceh, Gayo Lues and Aceh Tamiang, while the province of North Sumatra which includes TNGL is Dairi regency, Karo and Langkat.
This national park takes its name from Mount Leuser with a height of 3404 meters above sea level in Aceh. This national park includes the original ecosystem of the coast to high mountains covered by dense forests typical of tropical rain, and managed by the zoning system which is utilized for the purpose of research, science, education, culture, tourism, and recreation.
Mount Leuser National Park has 3 functions : a. protection of life support systems; b. preserving species diversity of plants and animals and their ecosystems; c. sustainable use of biological resources and ecosystems.
Around the national park, there are numbers of destinations that worth to be explored like:
Gurah. See and enjoy the natural scenery, canyons, hot springs, lakes, waterfalls, observing animals and plants such as flowers Raflesia, orangutans, birds, snakes and butterflies.
Bohorok. The place of orangutan rehabilitation, activities and natural attractions in the form of panoramic river, camping and bird watching.
Kluet. Boating on rivers and lakes, trekking in the jungle beach and cave tours. This area is the habitat of Sumatran tigers.
Sekundur. Camping, cave tours and wildlife observation.
Ketambe and Suak Carambola. Research primates and other wildlife researcher, completed by residence and library.

Mount Leuser (3404 m asl) and Mt. Pecan (3314 m asl). Mountain climbing
Rafting on the Alas River. Rafting of Gurah-Muara Situlen-wave for three days.
Flora
The area consists of coastal forest or swamps, lowland forests, upland forests and mountains that most of the area dominated by Dipterocarpaceae forest ecosystems with rare flora and typical Raflesia atjehensis Johanesteinimania altifrons (giant umbrella tree) and Rizanthes zippelnii which is the largest flower, the rare and protected with a diameter of 1.5 meters. In addition, there is a unique plant or plant that is drought fig.
Gunung Leuser National Park, has a spread of a complete forest vegetation of coastal forest vegetation / wetlands, lowland forests, upland forests and mountains. It is estimated that there are about 3,500 species of flora.
Fauna
Mount Leuser National Park is also rich in fauna species ranging from mammals and / Primates, Carnivora, Herbivores, Aves, Reptiles, Amphibious, Pisces and Invertebrates. It is estimated there are about 89 types of animals that are rare and protected here in addition to other wildlife species.
For these types of mammals and / Primate Gunung Leuser National Park has 130 species of mammal or a third-two types of mammals that exist in the world or a quarter of the total species of mammals that exist in Indonesia. Among the most prominent is Mawasa (Pongo pygmaeus abelii), Sarudung (Hylobates lar), Siamang (Hylobates syndactilus), monkey (Macaca fascicularis), Beruk (Macaca nemestriana) and Kedih (Presbytis thomasi). For carnivorous species such as the clouded leopard (Neofelis nebulosa), Bear (Helarctos malayanus), Sumatran tiger (tigris Phantera Sumatraensis). This type of herbivorous animals such as elephants (Elephas maximus), Sumatran Rhinoceros (Dicerorhinus sumatraensisi), deer (Cervus unicolor).
How to Achieve National Park Location:
Medan – Kutacane (+ 240 km), 8 hours by car.
Kutacane – Gurah / Ketambe (+ 35 km), 30 minutes by car.
Medan – Bohorok / Bukit Lawang (+ 60 km), 1 hour by car.
Medan – Sei Betung Sekundur (+ 150 km), 2 hours by car.
Medan – Tapak Tuan (+ 260 km), 10 hours by car.
Get your bag and pack now…