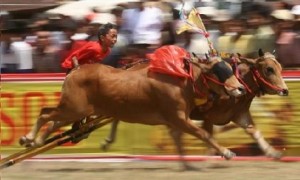 Madura
Madura is one of Indonesian Island, which is located on northeastern coast of Java Island. The indigenous are about ethnically Madurese, with particular language of Madurese.
Politically, Madura, over the centuries had become subordinate to regional authority based in Java. Around the year 900-1500, the island is under the influence of the east Javanese Hindu kingdom like Kediri, Singhasari, and Majapahit.
Madura ethnic, like Tionghoa ethnic is such a large ethnic which spread all over Indonesia area. Madura is one of the poorest area. Unlike other area in Indonesia, the soil is not fertile enough to be planted. That is why, Madura people is the most numerous participants who join transmigration program to move to other part of Indonesia.
This island is divided into four regencies, which are; Bangkalan, Sumenep, Sampang and Pamekasan. All those area are the famous area from Madura Island. Bangkalan, on the western end of the island, has industrialized substantially since the 1980s. This region is within a short ferry ride of Surabaya, and hence has gained a role as a suburb for commuters to Surabaya, and as a location for industry and services that need to be near the city.
Madura is famous for bull-racing competitions or Karapan Sapi. In this race, sort of a pair of oxen pulling a wooden cart, which is the jockey standing and controlling the cow pairs, and also manage in the race racing against other couples cow. The track race are usually around 100 meters race and the race can take about ten to fifteen seconds. Several towns in Madura held Karapan Sapi in August and September every year, with the final at the end of September or October, competing for President trophy.
This bull race was preceded by pairs of cows which paraded around the racetrack with gamelan accompaniment called Madura saronen.
Written by
www.Indonesia-Tourism.com
For more detail:
www.eastjava.com