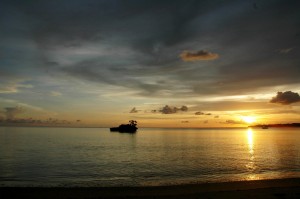 Selayar Islands
Selayar is an archipelago and regency island lies in the Flores Sea, between Sulawesi and Flores and part of South Sulawesi Province.
Selayar Islands District is one district among 24 districts and municipalities in South Sulawesi Province which is located at the southern end and extends from North to South. This area has the specificity, which is the only district in South Sulawesi that the whole territory are separate from the mainland of South Sulawesi and beyond that region of Selayar Islands District which consists of a group of several islands that form an archipelago. Those islands are totaling 123 islands, both large islands and small islands that stretches from North to South.
In Selayar Straits (Selat Selayar) there is more than 100 fathoms deep and, running in a strong current, that is dangerous for native ships to navigate. The strata of Selayar island are all sedimentary rocks: coraffine limestone, occasionally sandstone, except in the north and north-west, which is covered by a fertile soil. The watershed is a chain running throughout the island from north to south.
The selayar populations are mainly mixed race between Makasars, Bugis, the natives of Luvu and Buton people. They use the Makassar language, which are for the most part nominally Mahommedans, and support themselves by agriculture, fishing, seafaring, trade, the preparation of salt (on the south coast) and weaving. Field work is largely performed by a servile class. Raw and prepared cotton, tobacco, sea cucumber, tortoise-shell, coconuts and coconut oil, and salt are exported. Selayar is often compared with Madura, being of the same importance to Celebes as it is Madura to Java.
Selayar, a secluded island, far away from mass tourism. The myths have been kept alive on this small island which once lay on the Chinese trade route. The west side of the island is mainly inhabited by fishermen, who live in small villages that continue to follow their traditions largely unaffected by western influences. Besides traditional fishing, the growing of vanilla and tangerines generate the main sources of income on the island.
Selayar Island is a fascinating destination owing to its unique landscape, unusual rock formations, full of caves and waterfalls, and its beautiful unspoilt beaches. The almost uninhabited east side of the island, is still covered with original rain forest. It is possible to find numerous species of birds, small reptiles, marsupials, varans and even wildboars. Furthermore, when one is lucky, the world's smallest monkey, the tarsius, that is in danger of extinction, can be seen in his habitat.