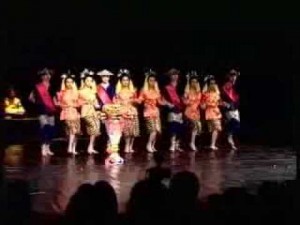 Dinggu Traditional Dance
Dingu dance is a traditional dance from Southeast Sulawesi, precisely originating coming from Tolaki tribe. According to Tolaki folklore, the rice seed is coming from the decease of seventh angel that coming to Earth. Hence, after the harvest time, they held a thanksgiving celebration to God that celebrated by the local people.
In order to gain more rice, Tolaki people are held Modinggu ceremony. Modinggu ceremony is a mass working to plant rice seed in the field that did by the Tolaki's teenagers at dawn till night. Therefore, the Dinggu dance was created during Midinggu celebration.