Pantai Berbatu Lake in Deiyai Regency, Papua Province
---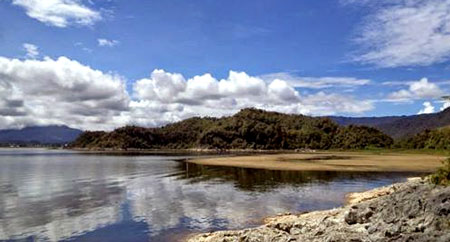 Deiyai Regency of Papua Province has lots of interesting spots to explore, especially for those who love adventure and relaxation. That doesn't mean tourists must spend much stamina to explore those places, though. Located near to Tigi Lake, a minor lake resides and the name is Pantai Berbatu Lake. Some people also call it Rocky Shore or Danau Pantai Berbatu. Despite the small size, it offers a distinct beauty to visitors. Not to mention people can take advantage of the serenity to enjoy a peaceful vacation with families. Here is further discussion about the lake.
The Nuance
When it comes to nuance, Pantai Berbatu Lake offers a serene ambiance. It is because the lake is not popular as its neighboring Tigi Lake. Plus, the size is smaller. In terms of features, as the name suggests, the lake is surrounded by rocks and stones. These sediments are quite hard and often become an object for photography. No wonder, tourists also call it Tanjung Batu or Rocky Cape. What about the water? The surface is quite calm, but it is definitely deep. Not to mention the panorama looks great there.
Exploring Pantai Berbatu Lake
Well, there are not many things to do in Pantai Berbatu Lake. Once arriving on the site, tourists can simply enjoy relaxation. What they need to do is to sit by the lake and enjoy the nuance. In terms of serenity, this one is indeed more peaceful than Tigi Lake. That means visitors are able to get rid of their stresses and burdens on the site. Still, it is recommended to come with family members or friends in order to get a good time together.
What is next? Relaxation is the main thing to do in Pantai Berbatu Lake. As an alternative, tourists can explore the site and find good spots for photography. Almost all sides of the lake are covered by sediments and rocks, in fact. No wonder, these landscapes would be a perfect background for taking photos. If tourists come with a local guide, they can even learn more about any rocks that reside on the site.
After enjoying some relaxation and photography, visitors must not forget to do another favorite activity, which is fishing. It is true that the number of fish is not as many as Tigi Lake. However, Pantai Berbatu Lake is good enough to catch some carps and eels. One thing, tourists must not forget to carry their fishing rod when heading to the lake.
Nearby Attractions

• Green Valley
• Duamo Island
• Damagabata Dua Waterfall
• Weyapigee Memiiwoo
How to Get There
For outsiders, the best way to reach Papua Province is by airplane, without a doubt. Their first destination is Nabire Regency, actually. From Jakarta City, tourists only need to take an airplane at Soekarno – Hatta International Airport and head to Nabire Airport immediately. This flight would take around 8 hours and 5 minutes during regular weather. From Nabire, they can take a local transportation service and head to Deiyai Regency right away. The trip usually takes around 4 hours and 51 minutes, as the distance is 169 km. From Deiyai, the last destination is definitely Pantai Berbatu Lake. The location is near Tigi Lake and the trip may take around 42 minutes. The distance is 23.6 km, actually.
Where to Stay