Paniai Lake in Deiyai Regency, Papua Province
---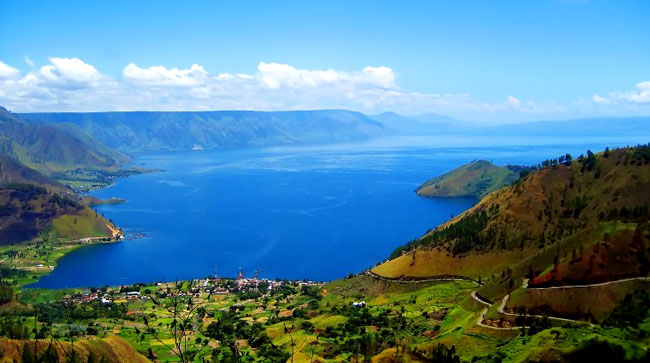 Surrounded by a lush environment and secluded nature, Deiyai Regency never fails to amuse tourists. As for natural attractions, the region is known for its lakes. These include Paniai Lake, which is located in East Paniai Sub-District. Actually, the lake resides near to the border between Deiyai and Paniai Regency. In terms of popularity, it is definitely similar to Tigi Lake. Both lakes offer an astonishing panorama and abundant fishes. Thus, tourists who come to Paniai Lake can enjoy sightseeing, photography, fishing, and other casual activities. They only need some good supplies and come at the right time!
The Nuance
Both the beauty and nuance is similar to Tigi Lake. However, Paniai Lake doesn't have a small island located in the midst of it. Instead, tourists can enjoy a flawless water body and a warmer atmosphere. According to the locals, the size is around 14.500 hectares and it resides on about 7000 meters above the sea level. The environment is pristine and the number of visitors is moderate. In that area, tourists can find some facilities like small cottages, local guides, boat rental service, fishing equipment rental, and small eateries. It can be said Paniai Lake is more sophisticated and well-maintained than Tigi.
Exploring Paniai Lake
Paniai Lake is considered one of the most beautiful lakes in the world! In fact, more than a hundred countries acknowledged it. The prime allure is definitely the exotic panorama. Tourists can simply enjoy sightseeing while exploring the lake. It is also recommended to use either a digital camera or smartphone to take some photos during the exploration. Some tourists even said that this lake is more beautiful than Tigi! They are not wrong, after all.
The fact is that Paniai Lake is located on highland. This explains why the atmosphere feels quite cold in the morning. Have no worries. It becomes warmer at noon. Aside from relaxation and sightseeing, tourists can enjoy other things there. The most recommended one is fishing. Like its sibling (Tigi Lake), this one comes with numerous species of freshwater fishes like tilapias, mujair, and carps. However, Paniai Lake has more species including the famous rainbow fish and Selingkuh Shrimps. Thus, the lake would give a better fishing experience to tourists.
As mentioned before, Paniai Lake has lots of facilities. That means tourists need to carry some money to use these facilities. For instance, visitors can rent a speedboat and get around the lake on it. When it comes to foods and drinks, some local eateries are available. What about spending the night on the site? They can either rent a villager's house room or small cottages in that area. The price is quite cheap, so don't worry!
Nearby Attractions

Tage Lake
Damabagata Dua Waterfall
How to Get There
For outsiders, they must take an airplane to Nabire Regency first. From Jakarta City, in this case, tourists should take an airplane service at Soekarno – Hatta International Airport and head to Nabire Airport right away. This flight usually takes around 8 hours and 5 minutes. From Nabire, they can take a local transportation service and head to Deiyai Regency. This trip usually takes around 4 hours and 51 minutes, as the distance is 169 km. From Deiyai, the next destination is East Paniai Sub-District, where the lake is located. This trip takes around 1 hour, actually.
Where to Stay

Brilian Homestay
Sheraton Inn