Meeuwo Mountains in Deiyai Regency, Papua Province
---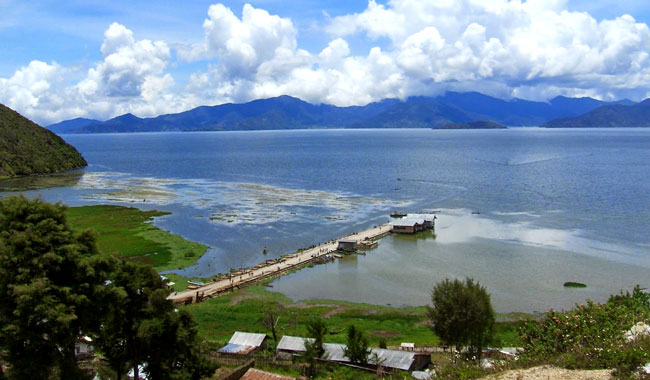 For those who love adventure and outdoor activities, they should consider visiting Deiyai Regency in Papua Province. It is the home of the famous Meeuwo Mountains, after all. This area is known for its amazing lake panoramas and comfy highland nuance. Tourists can also meet local tribe called Mee Tribe during the visit, as well. As for activities, trekking and sightseeing indeed become two major things to do there. Some visitors also want to conduct photography while exploring the mountains. These activities can be done either alone or with local guides actually. Still, it is recommended to hire a local guide who knows the route well.
The Nuance
Due to the popularity, both locals and outsiders recognize Meeuwo Mountain. Some of them even called it a country above the clouds or Negeri Diatas Awan. It is because the location is dominated by highlands. Thus, tourists may feel like touching the clouds when reaching the top of the mountains. For the information, the mountains belong to three regencies which are Deiyai, Paniai, and Dogiyai. The approximate height is around 4,000,700 meters above sea level! The nuance or atmosphere is quite chilly up there. As for the panorama, tourists can see three beautiful lakes clearly on the horizon!
Exploring Meeuwo Mountains
Well, the most popular thing to do in Meeuwo Mountains would be trekking. Tourists only need to choose the right moment or time in order to visit the site. It is recommended to enjoy trekking either in the morning or afternoon, though, for a more comfortable nuance. In terms of difficulty, it is considered easy. The trekking route is explorable even for beginners! Plus, stunning panoramas and relaxing atmosphere would accompany everyone during trekking.
Adventurers and nature lovers would have a good time in Meeuwo Mountains, without a doubt! Aside from trekking, visitors can enjoy other fun things like photography and sightseeing. Thus, everyone must carry a camera when exploring the site later. It is also recommended to carry some supplies, especially bottled water. It is because tourists won't find any facilities or food stands in that area. As for photography, the greatest objects to capture are none other than Tigi, Tage, and Paniai Lake. There is also Duamo Island located in the midst of Tigi Island!
What is next? Another reason for visiting Meeuwo Mountains is to meet the local tribe. It is called Mee Tribe and they mostly live on highlands near to the lakes. Aside from having a unique culture, these people are friendly enough to outsiders. Some of them would even offer foods and drinks to tourists! Also, don't forget to ask them to show directions during the exploration or trekking later.
Nearby Attractions

Green Valley
Damagabata Dua Waterfall
Weyapigee Memiiwoo
Duamo Island
Tigi Lake
Paniai Lake
How to Get There
The first destination is Nabire Regency and tourists can get there fast by airplane. Here is an example. A flight from Jakarta City (Soekarno – Hatta International Airport) would take around 8 hours and 5 minutes. Once arriving at Nabire Airport, they should take local transportation service and head to Dieyai Regency directly. The distance is 169 km, so this trip would take around 4 hours and 51 minutes. From Dieyai, they can head to Meuwoo Mountains right away. The distance is 23.6 km, so this trip would take around 42 minutes or less. Later, it requires trekking in order to explore the mountains, as well.
Where to Stay