Meepago Culture in Deiyai Regency, Papua Province
---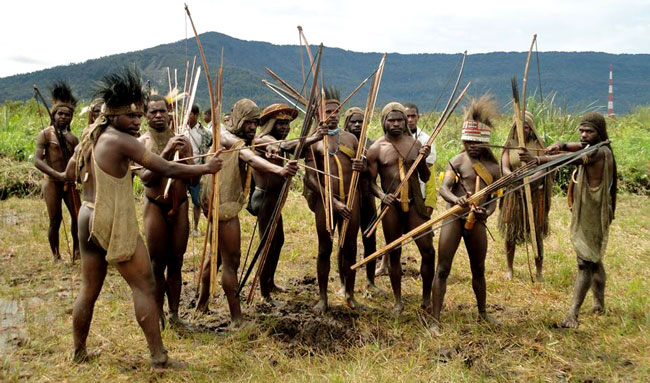 Some tourists are interested to visit Deiyai Regency for its natural attractions, especially to visit the famous Tigi Lake. Aside from that, the region offers interesting local traditions as well. For instance, there is Meepago Culture. It belongs to Mee Tribe and offers distinct allures to visitors. Despite the acculturation, the tribe remains exist these days. As the name suggests, tourists can meet these people in Meepago rural area. Have no worries. They can simply get help from a local guide to show the best places to meet the villagers later. As for culture, tourists can learn and enjoy local traditional songs, customs, arts, etc.
About Mee People
Mee Tribe is one of Papua Province's tribes and they live mostly on the highlands. For the information, tourists can easily meet them around Tigi, Tage, and Paniai Lake. Some of them also reside in Kamu Valley and Mapisa Mountains. In terms of appearance, the men indeed wear Koteka as their daily attire. In fact, they look almost naked! Some of them also wear a unique headgear, made of local birds' feathers. Their favorite weapon is an arrow, as they often use it for hunting.
More about Meepago Culture
So, what can tourists enjoy from Meepago Culture? The most favorite allure is architecture. Visitors can see the local building and constructions that represent Mee Tribe's norms, values, and customs. At a glance, it represents symbolism, as well. While exploring the rural area, in this case, tourists should not forget to collect some photos! Have no worries. The locals would allow outsiders or tourists to take photos in their place.
The next thing to enjoy is related to the local arts, especially carvings. These people often carve on some objects like koteka, noken anggrek, etc. Perhaps, tourists' most favorite object is Amapa Kagamapa, a kind of bracelet. For lucky tourists, they can even get one as a souvenir! Next, Mee people also cut some trees in order to create a unique boat! During the process, tourists are allowed to watch and make documentation of it, in fact. For the information, these people only cut several species of trees in order to create the boat. These include tipa, amo, and onage. What about the boat? They use to for fishing in Tigi Lake!
What is more? Mee People have a special term called "Keitai", which means a motivation to work hard in their job. They focus on what they can do in order to fulfill daily needs. Most of these people work as a farmer, breeder, hunter, and fisher, actually. Thus, tourist can meet them in the fields and watch the activities directly later.
Nearby Attractions

How to Get There
Tourists need to get to Deiyai Regency in order to meet the local tribe and enjoy Meepago Culture. First, they should reach Nabire Regency by airplane. From Jakarta City, in this case, they can get the airplane service at Soekarno – Hatta International Airport and head to Nabire Airport right away. Usually, the flight may take around 8 hours and 5 minutes! From Nabire, the next destination is Deiyai Regency and it can be done by local transportation service. The distance is 169 km, so the trip may take around 4 hours and 51 minutes. Next, tourists only need to reach local villages and meet the local tribe.
Where to Stay

Brilian Homestay
Sheraton Inn