Spending a Vacation in Tanah Merah, Papua Province
---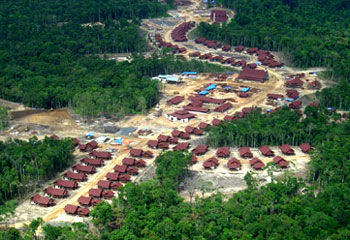 Perhaps only a few of outsiders and tourists recognize Boven Digoel Regency. One thing that makes it unpopular is none other than the location, which resides in Papua Province (the easternmost region of Indonesia). Despite the long trip and efforts, visitors won't regret spending some time there, especially due to the interesting history. Well, before exploring other parts of Boven Digoel, it is recommended to drop by in Tanah Merah City first. This capital city indeed has better accommodations and facilities than other regions. Thus, it becomes a good checkpoint before visiting famous tourist attractions in that region.
The nuance
In terms of nuance, Tanah Merah City seems peaceful but more crowded than other parts of the area. It is because the famous Tanah Merah Airport is located there. The location is in the west inland section of Papua Province. Some hotels and regular facilities are available, so tourists can rest for a while before starting their adventure. For the information, it becomes one of the cities, which wasn't conquered by Japan during the World War II back then. Despite the fact, it became one of the Dutch's colonies and they used it as an exile site. This explains why tourists would find interesting historical buildings there.
Exploring Tanah Merah City
The first thing to enjoy in Tanah Merah City is definitely the history. In this case, tourists need to hire a local guide in order to get detailed information regarding history and find some good historical sites to visit. As mentioned before, the Dutch used the region as an exile site. It is because Boven Digoel has a strategic landscape to seclude people during the colonial era. Have no worries. The local guide would provide further information to tourists later.
Aside from learning history, visitors can do more things in Tanah Merah City. For instance, they can visit some attractive historical place, especially the famous Boven Digoel Camp. This old prison doesn't operate anymore, but it has become a new interesting place for tourists to explore. Visitors can take photos and explore the prison comfortably, after all. Once again, it is recommended to come with a local guide!
What is more? Most allures in Tanah Merah City are related to history, without a doubt. However, tourists can also approach local people and watch their attractive cultures. In fact, the region has three famous tribes called Muyu, Mandobo, and Auyu. Each of them has similarities, but some distinct ways of living. No wonder, tourists would be astonished by meeting those locals later.
Nearby Attractions

Boven Digoel Camp
Owi Island
How to Get There
The first destination is the capital of Papua Province, Jayapura City. Tourists can get there fast by airplane, actually. From Jakarta City (Soekarno – Hatta International Airport, in this case, may take around 5 hours and 15 minutes. After arriving at Sentani Airport, the next destination is Tanah Merah Airport at Boven Digoel Regency. It can be done by taking an OTR airplane and the flight may take around 1 hour.
Where to Stay

Tanah Merah Hotel
Susteran Oksibil Hotel
Honai Hotel
Idaman Hotel