Pesta Ulat Sagu in Boven Digoel Regency, Papua Province
---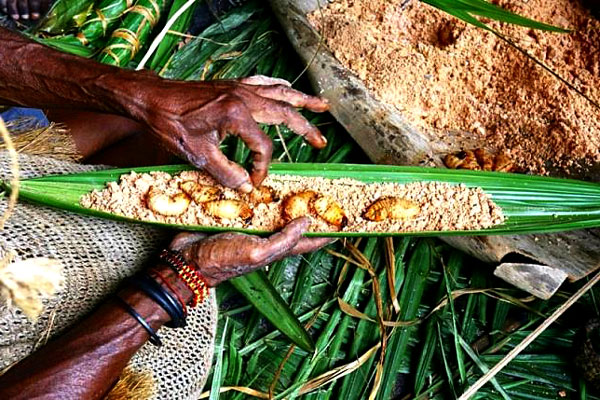 What can tourists do in Boven Digoel Regency? This is indeed a common question. When it comes to tourists, most visitors are likely to visit the famous old prison and find more information regarding history. Aside from these, the region is known for its unique culture! The local tribes have some attractive traditions including the one called Pesta Ulat Sagu. In terms of language, it means the sago caterpillar feast. People who live in Boven Digoel and other regions of Papua Province often hunt these creatures and eat them raw! No wonder, they often conduct a feast or eating together either during regular days or special occasions. The good thing is that tourists are allowed to join it!
The Nuance
The party is not sophisticated or luxury. It is because the locals would use traditional items in serving the foods. Not to mention they would eat the caterpillars raw! They often eat it directly or along with pounded sago. Instead of using plates, they use special leaves! There is no spoon and fork, as they may eat it by hands. Some tourists would feel disgusted by the animals indeed. However, other tourists consider it unique and they want to try some when visiting the region later.
Joining Pesta Ulat Sagu
The first thing to enjoy while joining Pesta Ulat Sago is the cultural value itself. Tourists can learn an interesting social aspect when joining the feast. The locals eat together in a friendly manner! Even they would welcome outsiders and tourists! According to the locals, the prime purpose of the feast is to help other families who don't have lots of yields. That means these people are concerned with others. For tourists, this aspect would definitely impress them.
Well, for some tourists, eating raw caterpillar sago is considered filthy. Have no worries. They can make a special request to villagers in order to get the fried ones. As for the taste, it is considered plain. However, the creature contains lots of nutrients! Well, before joining the event, though, tourists should find the place first. Usually, all tribes would discuss and decide where to conduct the party. As for the other ingredients, they usually include pounded sago, cassava, etc.
In terms of function, Pesta Ulat Sago has the prime purpose, which is to build a strong relation to other members of the tribe. Another function is to show gratitude to God regarding the abundant yields. As for tourists, they can join the party freely and take part in all the process including the hunting, preparation, serving, and eating! Even taking photos during the event is allowed!
Nearby Attractions

Boven Digoel Camp
Owi Island
How to Get There
For outsiders, it is recommended to reach Jayapura City first by airplane. A flight from Jakarta (Soekarno – Hatta International Airport), in this case, may take around 5 hours and 15 minutes. Once tourists arrive at Sentani Airport, they can take an OTR airplane and head to Tanah Merah Airport afterward. The destination is Boven Digoel Regency, indeed. This flight usually takes around 1 hour or less. After arriving at the destination, they can visit local villages and find information regarding the ceremony (especially related to the schedule).
Where to Stay

Susteran Oksibil Hotel
Honai Hotel
Tanah Merah Hotel
Idaman Hotel