Korowai Tribe's Tree Houses in Boven Digoel Regency, Papua Province
---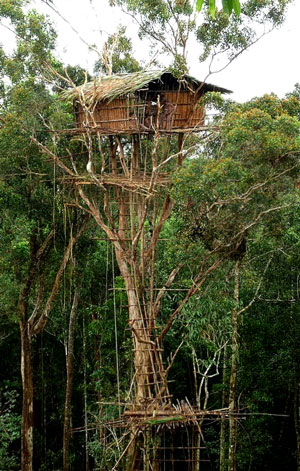 For some tourists, Boven Digoel Regency isn't quite attractive. Perhaps, it is because of the distance and seclusion. Despite the long and difficult trip, it would be a distinct experience for everyone. The region has lots of unique natural allures and interesting cultures, after all. One of the best features is definitely the famous tree houses of Korowai Tribe. The tribe is known for its traditional and secluded life. In the past, they were even known due to cannibalism! As tourists may expect, their houses are built on a tree and have become a great object to explore and a nice background for photography.
The Nuance
Well, tourists need to pass through a forest in order to approach Korowai Tribe and see their tree houses. For the information, the best location to meet these locals is in Kaibar Village, which is near to the border between Boven Digoel and Mappi Regency. The houses are built on a height of about 15 – 50 meters! Not to mention these houses are surrounded by lush and shady forest. The locals built the houses only using traditional materials. They gathered branches, rattans, roots, woods, and other objects from nearby forest and swamps, actually. Despite the simplicity, the construction is sturdy enough and is able to withstand bad weathers.
Exploring Rumah Pohon
Well, the first thing to enjoy is none other than the trip itself. It is because tourists need to pass through a lush forest to meet the tribe and watch the houses directly. In some cases, it is recommended to come with a local guide. This person would be able to show the direction and help to talk to the tribe later. Not to mention he or she may tell further information and history regarding the tree houses! Thus, hiring a local guide would be a must.
Once arriving at the location, tourists may see the majestic tree houses right away. Some of them are built on small trees while others are on the tall ones. It is allowed to take photos of the houses, for sure. However, tourists need special permission in order to get in the houses. After all, it requires some efforts to climb it. Here is a unique fact. The locals didn't use any nails when building the houses! They only took advantage of rattans in order to tie the materials together.
Visitors should also find out the reasons why Korowai Tribe built their houses on the tree, actually. According to them, the prime purpose is to avoid wild animals. Another reason is that these people are concerned with nature the most. Here is another fact. The tribe was exposed in 1970 back then and they were quite isolated. There is even a rumor that these people still practiced cannibalism these days. Have no worries. The local government has confirmed regarding the false rumor. That means tourists can approach the tribe safely later.
Nearby Attractions

Boven Digoel Camp
Owi Island
How to Get There
Before heading to Boven Digoel Regency and meet Korowai Tribe, tourists should get to Jayapura City first. For the best trip, it is recommended to take an airplane, without a doubt. Here is an example. A flight from Soekarno – Hatta International Airport (Jakarta City) to Sentani Airport (Jayapura) may take around 5 hours and 15 minutes. From Sentani, tourists should take an OTR plane and head to Boven Digoel Regency (Tanah Merah Airport) right away. This time, the flight would take around 1 hour.
Where to Stay

Susteran Oksibil Hotel
Tanah Merah Hotel
Honai Hotel
Idaman Hotel