Danda Dance in Boven Digoel Regency, Papua Province
---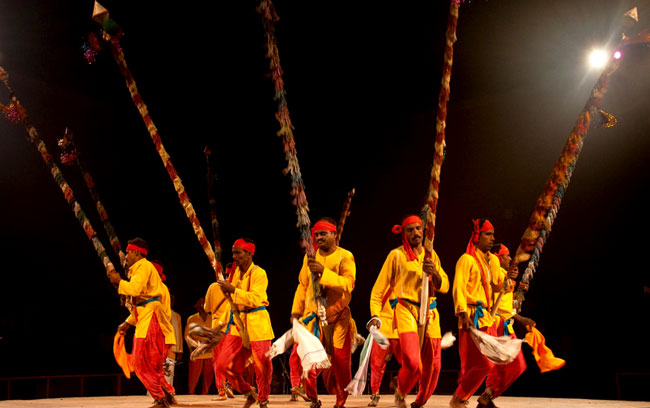 Boven Digoel Regency is the part of Papua Province and has become a nice addition to Indonesia tourism. Those who love to enjoy island hopping and spend a vacation on beaches should consider visiting the region one day. Aside from natural attractions, there are more allures indeed! One of them is related to culture, especially local dances. For instance, there is the Danda Dance. Villagers usually perform this beautiful dance during special events like wedding ceremonies, pig feast, etc. The dance also becomes an entertainment when welcoming special guests, actually. As for tourists, they can definitely enjoy the dance when spending a vacation in Boven Digoel later!
About Danda Dance
If it is related to language, Danda Dance means the party dance. Officially, it has the prime function, which is to welcome important guests. The dance belongs to Muyu Mandobo Tribe and the locals often perform it during Barapen or the pig feast party (Bakar Batu). These days, however, tourists can watch the dance aside from those events. What about the nuance? It is both merry and unique. The dancers consist of both males and females. They wear traditional attires and some of them play a musical instrument like a traditional drum.
More about Danda Dance
It is true that Danda is different from Jook Dance, which is also another Muyu Tribe's performance. One significant difference is indeed related to the moves. Danda represents the movements of fishes, actually. The dancers even apply yellow, white, and red brick pastes on their body! Even it involves charcoals! As for the ornaments, they wear a unique head crown, made of numerous feathers including cassowary and white cockatoos. Not to mention they wear a unique belt, which is made of nibung leaves. As mentioned before, some of them carry and play drums called Tifa.
Aside from watching and taking photos of Danda Dance, tourists can also learn history regarding the dance. There must be reasons why the movements are similar to those of fishes, after all. It is said a man was hunting for fishes on Sero. However, he was only able to catch one. Instead of cooking and eating the fish, he let it go. Soon, he wore Muyu traditional attire and performed the dance on that site. The purpose was to call other fishes. Unexpectedly, lots of fishes were caught!
Here is the tip. Tourists need to visit Boven Digoel Dance at the right times in order to watch the dance. The best times would be during Barapen and other local events like wedding ceremony, pig feast, guests welcoming, etc. Sometimes, the committees even provide gifts to the audience. These include Tifa, Busur, Noken, and other traditional items!
Nearby Attractions

Owi Island
Boven Digoel Camp
How to Get There
The best place to watch Danda Dance is indeed in Boven Digoel Regency itself. Before reaching the region, tourists should drop by in Jayapura City (the capital of Papua Province). Also, it is recommended to take an airplane to get there. From Jakarta City, in this case, tourists should take an airplane at Soekarno – Hatta International Airport and head to Sentani Airport immediately. This flight usually takes around 5 hours and 15 minutes. From Sentani, another flight is required and the destination is Tanah Merah Airport at Boven Digoel Regency. A flight using an ATR plan may take around 1 hour, actually.
Where to Stay