Approaching Cendrawasih Kaisar Bird in Boven Digoel Regency, Papua Province
---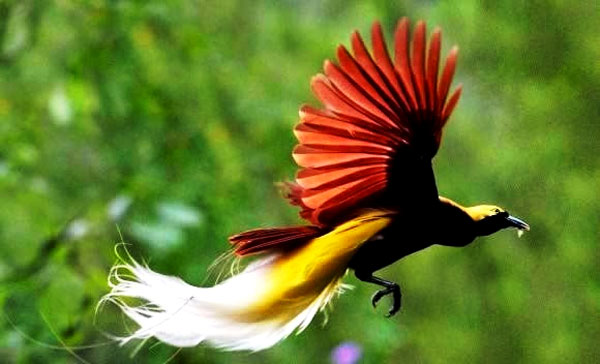 In Papua Province, there are an exotic bird species called Cendrawasih or the bird of paradise and it has become one of the best allures there. One thing, there is even a special kind that tourists can find in Boven Digoel Regency. The name is Cendrawasih Kaisar! The official name is Paradisaea Guilielmi and it indeed has distinct features than the regular ones. Not to mention the birds become one of tourists' reason to visit Boven. Visitors usually want to see those birds directly, learning further information about the birds, and take photos of the creature.
The Characteristics
It is, without a doubt, Cendrawasih Kaisar Bird has distinct features than the regular one. This is why lots of tourists are interested to see these birds directly. For the information, the size is moderate and the length is around 30 cm. As for the color, it features yellow and brownish feathers. The beak color is blue and grayish! The birds even have beautiful irises, with a stunning brown reddish color. The difference between male and female birds is related to size. The females are smaller, actually. That means tourists can distinguish them without problems.
More about Cendrawasih Kaisar Bird
It is true that Cenderawasih Kaisar Bird is abundant in Boven Digoel Regency, so tourists can see and approach these birds easily. Still, there are some special locations where the birds can be seen the most. According to the locals, these birds can be seen in highland forests and Jasirah Huon Hills. That means tourists need to conduct hiking and trekking in order to reach those locations. Have no worries. This provides them with an adventure experience.
Once arriving at the locations, tourists can start watching those birds directly. These creatures live on the trees and they are quite calm. That means Cendrawasih Kaisar won't get disturbed easily. As for the foods, they love bugs and fruits! While watching, tourists can also take photos of the birds without hassles. Here is the tip. It is recommended to come during the mating. At the time, the males would perform a unique dance and show off their beautiful feathers to the females.
What is more? Tourists can learn history regarding the birds, as well. In terms of name, it includes "Caesar" in it. Well, it derives from a German Caesar namely Frederick William. The founder of the birds was Carl Hunstein! It was in 1884, actually. Have no worries. Tourists can learn further information regarding the birds from villagers and local guides later.
Nearby Attractions

Boven Digoel Camp
Owi Island
How to Get There
In order to watch Cendrawasih Kaisar Birds directly, tourists must reach Boven Digoel Regency. The first destination is Jayapura City and the best way to get there is by airplane. From Soekarno –Hatta International Airport (Jakarta City), for example, a flight to Sentani Airport at Jayapura would take around 5 hours and 15 minutes. Next, tourists need to take an ATR plane and head to Tanah Merah Airport at Boven Digoel. This flight usually takes around 1 hour or less depending on the weather.
Where to Stay