Museum Budaya in Asmat Regency, Papua Province
---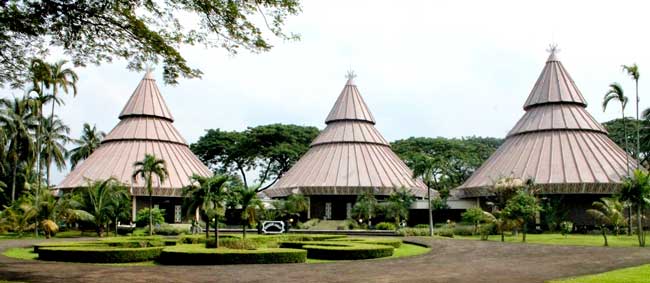 Located in Agats City (the capital of Asmat Regency), there is famous Indonesia tourist site called Asmat Cultural and Development Museum. The locals call it Museum Budaya dan Perkembangan Asmat, actually. The exact location is in Misi Street and it was built in 1969 by a missionary namely Frank Trankenschuh. The prime function of the museum is definitely to retain the local cultures. Aside from that, the museum becomes a new vacation destination for tourists, especially outsiders and foreigners who visit Asmat Regency. For the information, the inauguration was in 1973 and the building stores at least 1200 objects!
The Nuance
Once arriving on the site, tourists would feel a comfy nuance right away. It is because the museum features a beautiful garden with many fertile plants growing on it. Three prime buildings reside in this area and they apply Kariwari architecture. It has a cone-shaped roof and a height of about 25 meters. The design looks traditional, but it won't leave the modern accent at all. Due to the unique shape, visitors often take photos of these buildings before entering! In terms of size, the museum resides on an area of 6500 meters per square.
Exploring Museum Budaya
As mentioned before, Museum Budaya has three main buildings and all of them exhibit various types of Asmat cultural items, including carvings, musical instruments, farming tools, worship tools, kitchen utensils, and much more. Once tourists enter the first building, they may see Asmat's tribe way of living. Lots of their items are also stored here including traditional clothes, dioramas, jewelry, and much more. Visitors can also learn how to make sago by reading the dioramas!
In the second building, tourists would see some items that relate to local cultures. Most of them are traditional weapons, used by Asmat Tribe for hunting. In this building, lots of mystical objects are kept, especially ones that relate to the ancestor spirits. These include Mbis status and spirit boats! As for the third building, visitors may see various accessories, musical instruments, and local artworks. One thing, touching those objects is prohibited. Tourists can only watch and take photos of them while exploring the buildings later.
What is more? The museum also features audio-visual facility, so the guests are able to learn information easily. Moreover, there is a special spot for photography! That means visitors can take photos using a special background of Asmat Tribe culture! For the information, the museum opens daily except in Monday. Thus, make sure to come at the right time later.
Nearby Attractions

How to Get There
It takes much time to reach Museum Budaya in Asmat Regency. For outsiders, in this case, they should take an airplane to reach Asmat Regency faster. For instance, a flight from Jakarta City (Soekarno – Hatta International Airport) to Mozes Kilangin Airport at Asmat would take around 5 hours. After arriving at the airport, they can take a local transportation service and head to the museum right away. The trip may take about 4 hours and tourists should pass through Lorentz National Park as well later.
Where to Stay

Sang Surya Hotel
Firwan Hotel
Assedu Hotel
Tagari Inn