Who is Orangutan?
---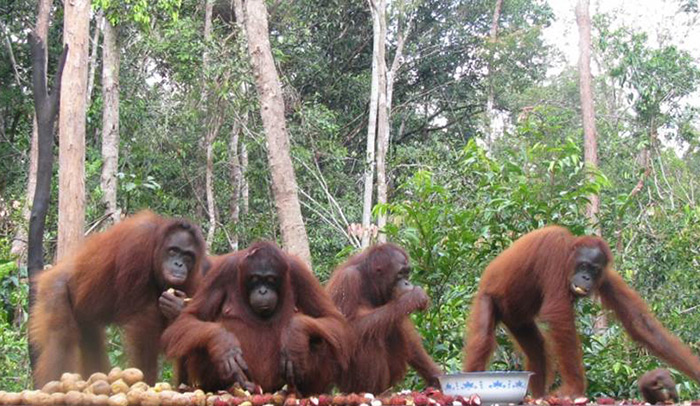 Orangutans are large apes that live in southeast Asia (on the islands of Borneo and Sumatra). These apes mostly live in trees (they are arboreal) and swing from branch to branch using their arms.
Basically, the word orangutan means "man of the forest" in the Malay language. As its habitats are being usurped by man, the orangutan's population is decreasing and it is in grave danger of extinction. Orangutans are shy, solitary animals that are active during the day. They live alone in large territories. This is probably due to their eating habits; they need a large area in order to get enough food and too many orangutans in one area might lead to starvation.
The only long-lasting orangutan social group is the mother and offspring, who live together for about 7 years. When mating, the male and female orangutan stay together for only a few days. Some might say orangutans have four hands instead of two hands and two feet. This makes them graceful and agile while climbing through the trees but it makes walking on the ground somewhat slow and awkward. That is why the orangutan is at a great disadvantage on the ground, and why the orangutan rarely comes down from the treetops.

Latest News
PT. Borneo Lestari Tour & Travel, Pangkalan Bun – Central Borneo Borneo Eco Tour based in Pangkalan Bun – Central Kalimantan. Borneo Eco Tour under the legal Company named PT. Borneo Lestari Tour & Travel established in 17 October 2008 by Peltanadanson (Danson). This company is member of ASITA (Asociation of Indonesia Travel Agentcy): 026/XIV/DPP/2009. Its main office is on Jalan Prakusuma Yudha No. 12 in the down town and it has Borneo Eco Tour counter in Pangkalan Bun Airport on Arrival room. Regarding the office is in Pangkalan Bun…
---
Orangutan Tour Orangutan Tour is one of tour and travel company based on Central Kalimantan, Indonesia. Under the flag of PT. Borneo Lestari Tour and Travel, Orangutan Tour will guide you to explore Borneo with its natural beauty and culture. Located in Pangkalan Bun, Central Kalimantan offer you to have some tour package like enjoying houseboating, floating market or Dayak tour. The facilities are included the accommodation, transportation and everything you need during your visit. The mission is to provide you all the best services that is needed and expertise…
---
  Since 1994, they have spent most of their  life as field guides deep in the jungle and river of Borneo, with this years experiences also they are growing up in the fields as Wildlife and Culture tour guides, which know well about the adventure in Borneo and supported by their impressive and solid background of the team with depth and breadth of knowledge and experiences in the rain forest and animals, especially Orangutan. The teams are also have been voluntary for Orangutan for few years. Their adventures tour packages…
---
  PT. Orang Utan Kalimantan Tour & Travel This is one od orangutan tour companies that offering you the opportunity to see orangutans in their natural environment. Let them bring you in the mystic Tanjung Puting National Park, it located on the island of Borneo, in the Province of Central Kalimantan, Indonesia. The development of PT. Orang Utan Kalimantan was originates from loving couple, Ennog and Isabelle, who met in the jungle of Indonesia in 2006. Ennog is an Indonesian, born in the village of Kumai Subdistrict in Central Kalimantan.…
---