How To Get There?
---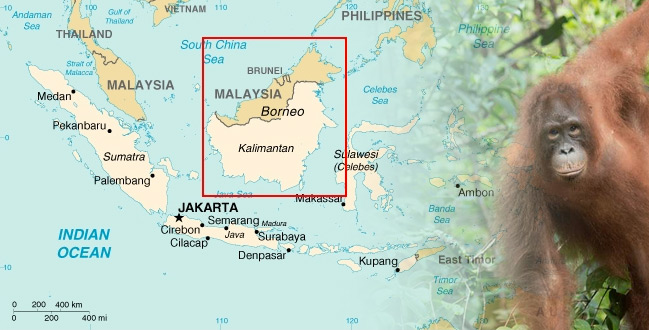 Orangutans in Indonesia are live in Sumatra and Borneo (Kalimantan) island. There are many tour travel agents in Indonesia that will be happy to guide you to visit the Orangutan destination. But first, please consult guidebooks before making your travel arrangements.
In this opportunity, the site presents to give you some information about how you can get the Orangutan destination. Mostly, the pictures and information here is about Orangutan tour in Borneo (Kalimantan) island, precisely located in Tanjung Putting National Park In Pangkalan Bun, Central Kalimantan - Indonesia. So, you will get the information about how you can get to Tanjung Putting National Park.
To reach Tanjung Putting National Park, you will need to fly to the airport of Pangkalan Bun, Central Kalimantan.
If you are arriving from outside Indonesia, check fares to neighboring countries such as Singapore (SIN), Kuala Lumpur, Malaysia (KUL), and Bangkok, Thailand (BKK). IF you are flying directly to Indonesia, try Jakarta (CGK), Surabaya (SUB), and Denpasar, Bali (DPS).
From USA/Europe/Australia/Asia/Singapore, the easiest way is you fly to Jakarta. Then from Jakarta direct fly to Pangkalan Bun (Central Kalimantan - Borneo Island).
If you start from Bali the easiest way to reach Pangkalan Bun is you need to take early flight from Bali to Jakarta then from Jakarta connect to Pangkalan Bun. Other alternative flight you can fly from Bali to Yogyakarta but need to stay overnight in Yogyakarta or Semarang then drive to Semarang (if you stay overnight in Yogyakarta) to catch your flight to Pangkalan Bun.
There are no direct flights from Bali's Denpasar airport (DPS), but you can also fly to Surabaya (SUB). Pangaklan Bun (PKN) is in Central Kalimantan in Indonesian Borneo and it is the closest airport to Kumai, gateway to Tanjung Puting National Park.
Kal Star and Trigana both fly from Surabaya (SUB) and Jakarta (CGK) to Pangkalan Bun (PKN). Kal Star is a regional airline focused on Kalimantan, so you will not see their flights listed in other parts of Indonesia.
Thirty day Visas on Arrival (VOAs) are available at the Denpasar (DPS), Jakarta (CGK), and Surabaya (SUB) airport. Note that Denpasar (DPS), Jakarta (CGK), and Surabaya (SUB) airports have separate domestic airports, so be sure to allow extra time for customs and VOA.
Fly from Jakarta to Pontianak (West Kalimantan) and then on to Pangkalan Bun (PKN). These fligts are cheaper but you will have to stay overnight in Pontianak before flying south to Pangkalan Bun, since the small plane to Pangkalan Bun leaves very early in the morning.
Fly from Jakarta to Pangkalan Bun via Palangkaraya. You will have to spend a night there before flying into Pangkalan Bun. Flights out of Pangkalan Bun do connect with onward flights to Jakarta. There is also a bus service between Banjarmasin. But please contact an Indonesian travel agent if you are considering this route.
Be aware that flights are more likely to be delayed than on time. Flights do get fully booked especially during religious holidays.
Pangkalan Bun
For your information, Pangkalan Bun is a small town and the flight to go out from this town only ONCE A DAY. So please make sure you allow enough time between flights in Surabaya and Jakarta, as there are sometimes flight delays due to inclement weather. Flights to and from Kalimantan typically leave and arrive on the same day, even if there are weather delays. It is best to arrive the day before the tour, just in case of weather delays. It is not recommend to CONNECT INTERNATIONAL FLIGHT with domestic flight from Pangkalan Bun but at least one day before you should stay at big city with the international airport connection in case some delay or cancel flight from Pangkalan Bun.
Transfer To Kumai
You then need to make your way to Kumai. It is about 20 minutes taxi ride from Pangkalan Bun. From here you can organize your boat (local people called it as klotok) for about 2 hours journey up the Sekonyer river to the RImba or Eco Lodge, your base whilst exploring the area. It is also possible to sleep and cook meals on the Klotok. In order to travel in and out of the park, it will be necessary to keep the Klotok during your trip. Speedboats can also be hired. The Rimba and the Eco Lodge are about 2 hours from Kumai. Camp Leakey is a further 2 to 2,5 hours up river.
Welcome To Tanjung Puting National Park
Tanjung Putting National Park is the amazing national park in Central Kalimantan. The park is very low and swampy, containing nip a mangrove swamps, tropical peat forest, and tropical heath forest. All of these forest types are found within the study area of Camp Leakey, which lies within the park itself. Enjoy your day here and explore the Orangutan tour.

Latest News
PT. Borneo Lestari Tour & Travel, Pangkalan Bun – Central Borneo Borneo Eco Tour based in Pangkalan Bun – Central Kalimantan. Borneo Eco Tour under the legal Company named PT. Borneo Lestari Tour & Travel established in 17 October 2008 by Peltana Danson (Danson). This company is member of ASITA (Association of Indonesia Travel Agency): 026/XIV/DPP/2009. Its main office is in Jl, Ahmad Wongso in the down town and it has Borneo Eco Tour counter in Pangkalan Bun Airport on Arrival room. Regarding the office is in Pangkalan Bun it…
---
Orangutan Tour Orangutan Tour is one of tour and travel company based on Central Kalimantan, Indonesia. Under the flag of PT. Borneo Lestari Tour and Travel, Orangutan Tour will guide you to explore Borneo with its natural beauty and culture. Located in Pangkalan Bun, Central Kalimantan offer you to have some tour package like enjoying houseboating, floating market or Dayak tour. The facilities are included the accommodation, transportation and everything you need during your visit. The mission is to provide you all the best services that is needed and expertise…
---
  Since 1994, they have spent most of their  life as field guides deep in the jungle and river of Borneo, with this years experiences also they are growing up in the fields as Wildlife and Culture tour guides, which know well about the adventure in Borneo and supported by their impressive and solid background of the team with depth and breadth of knowledge and experiences in the rain forest and animals, especially Orangutan. The teams are also have been voluntary for Orangutan for few years. Their adventures tour packages…
---
  PT. Orang Utan Kalimantan Tour & Travel This is one od orangutan tour companies that offering you the opportunity to see orangutans in their natural environment. Let them bring you in the mystic Tanjung Puting National Park, it located on the island of Borneo, in the Province of Central Kalimantan, Indonesia. The development of PT. Orang Utan Kalimantan was originates from loving couple, Ennog and Isabelle, who met in the jungle of Indonesia in 2006. Ennog is an Indonesian, born in the village of Kumai Subdistrict in Central Kalimantan.…
---