Pangkalan Bun
---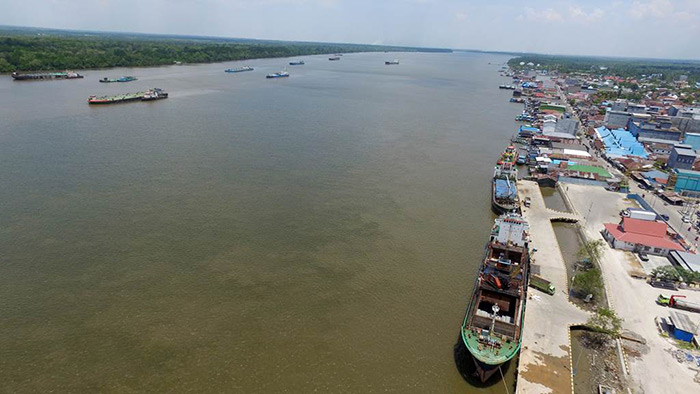 Pangkalan Bun is the capital of the Kotawaringin Barat regency, in the western part of Central Kalimantan. This is the entry point to reach Tanjung Puting Park in the southern part, and the Dayak villages in the north of Central Kalimantan Province. The best place in Indonesia to see Orangutans in their natural habitat is undoubtedly Tanjung Puting National Park.
In recent times it has grown in popularity with foreign tourists, and airlines have responded with increased flight options and frequencies to the nearest city or airport is Pangkalan Bun. The airport named Iskandar Airport provides several flights: Surabaya, Semarang and Jakarta.
About 30 miles from Pangkalan Bun you will enter Camp Leakey. The place for study and conservation of Orangutans. To reach this area, you should cross the Sekonyer river. The site has expanded from the original hut in 1971. Its facilities, supported by the Orangutan Foundation International, are a part of the Tanjung Puting National Park.
Well, Pangkalan Bun is the transit city with an airport, some hotels and very few ways to spend your time.

Latest News
PT. Borneo Lestari Tour & Travel, Pangkalan Bun – Central Borneo Borneo Eco Tour based in Pangkalan Bun – Central Kalimantan. Borneo Eco Tour under the legal Company named PT. Borneo Lestari Tour & Travel established in 17 October 2008 by Peltana Danson (Danson). This company is member of ASITA (Association of Indonesia Travel Agency): 026/XIV/DPP/2009. Its main office is in Jl, Ahmad Wongso in the down town and it has Borneo Eco Tour counter in Pangkalan Bun Airport on Arrival room. Regarding the office is in Pangkalan Bun it…
---
Orangutan Tour Orangutan Tour is one of tour and travel company based on Central Kalimantan, Indonesia. Under the flag of PT. Borneo Lestari Tour and Travel, Orangutan Tour will guide you to explore Borneo with its natural beauty and culture. Located in Pangkalan Bun, Central Kalimantan offer you to have some tour package like enjoying houseboating, floating market or Dayak tour. The facilities are included the accommodation, transportation and everything you need during your visit. The mission is to provide you all the best services that is needed and expertise…
---
  Since 1994, they have spent most of their  life as field guides deep in the jungle and river of Borneo, with this years experiences also they are growing up in the fields as Wildlife and Culture tour guides, which know well about the adventure in Borneo and supported by their impressive and solid background of the team with depth and breadth of knowledge and experiences in the rain forest and animals, especially Orangutan. The teams are also have been voluntary for Orangutan for few years. Their adventures tour packages…
---
  PT. Orang Utan Kalimantan Tour & Travel This is one od orangutan tour companies that offering you the opportunity to see orangutans in their natural environment. Let them bring you in the mystic Tanjung Puting National Park, it located on the island of Borneo, in the Province of Central Kalimantan, Indonesia. The development of PT. Orang Utan Kalimantan was originates from loving couple, Ennog and Isabelle, who met in the jungle of Indonesia in 2006. Ennog is an Indonesian, born in the village of Kumai Subdistrict in Central Kalimantan.…
---