Tanjung Putting National Park
---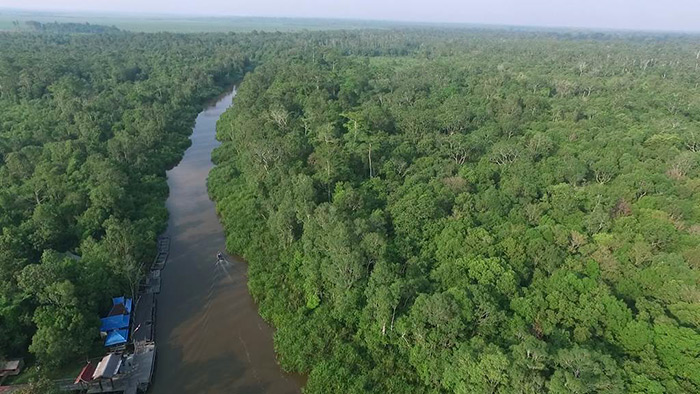 Tanjung Puting National Park is a national park located in Central Kalimantan peninsula, this is the largest orangutan conservation in the world with an estimated population of 30,000 to 40,000 orangutans are scattered in the National Park and also outside the National Park. In addition Tanjung Puting National Park is also designated a Biosphere Reserve in 1977 with a core area of Tanjung Puting National Park covering an area of 415,040 hectares were set in 1982.
National Park status and Tanjung Puting National Park biosphere reserves can be maintained continuity and the appeal of tourism in Indonesia, in contrast with the other conservation of Borneo Orangutans part we see orangutans in man-made habitats. While in Tanjung Puting we can see directly the natural habitat of orangutans live their lives and see directly in the wild. Tanjung Puting is initially a nature reserve and wildlife reserves with a total area of 305,000 hectares.
Access to visit Tanjung Puting National Park is by boat klotok which is fairly comfortable accommodations, Klotok are loading passengers 7 up to 12 people. The boat speed is not too fast, so that we can enjoy the atmosphere Sekonyer river along the road. With this boat, passengers can enjoy the sunset, fireflies and other wild animals are sometimes seen alongside the river.
Most visitors that visiting Tanjung Puting National Park are foreign tourists, because of the many foreign tourists who come here to make people Pangkalan Bun and National Parks further improve their services. With guide services and boat captain were friendly.
Along down Sekonyer river we can see monkeys swinging from one tree to another. These forests are home of eight species of primates. Including monkeys who has a long nose or bekantan (proboscis), with a long nose the local communities called Monyet Belanda (Netherlands monkeys) because of nose aquiline. When down Sekonyer river to the Tanjung Putting area please be careful by crocodiles, they are difficult to see but they exist around the river.
One of the interesting places in Tanjung Puting is Camp Leakey, the orangutans preservation. Many camps here like Tanjung Harapan, Pondok Tanggui, Pondok Ambrung, and the last is Camp Leakey. This camp is the largest and was built in 1971. This place is a refuge location orangutans rescued from illegal hunting. Nowadays this camp is known as a center for the study of orangutans. We could learning orangutan at the information center of Camp Leakey. This camp will be maintained because the orangutan is an endangered species, threatened by the effects of deforestation and the illegal pet trade.
In addition Pondok Tangui also a rehabilitation center for orangutan had been arrested. Both of preservation center, you will get a chance to see these amazing primates up close and learn more about how we can protect endangered species from Borneo Island.

Latest News
PT. Borneo Lestari Tour & Travel, Pangkalan Bun – Central Borneo Borneo Eco Tour based in Pangkalan Bun – Central Kalimantan. Borneo Eco Tour under the legal Company named PT. Borneo Lestari Tour & Travel established in 17 October 2008 by Peltanadanson (Danson). This company is member of ASITA (Asociation of Indonesia Travel Agentcy): 026/XIV/DPP/2009. Its main office is on Jalan Prakusuma Yudha No. 12 in the down town and it has Borneo Eco Tour counter in Pangkalan Bun Airport on Arrival room. Regarding the office is in Pangkalan Bun…
---
Orangutan Tour Orangutan Tour is one of tour and travel company based on Central Kalimantan, Indonesia. Under the flag of PT. Borneo Lestari Tour and Travel, Orangutan Tour will guide you to explore Borneo with its natural beauty and culture. Located in Pangkalan Bun, Central Kalimantan offer you to have some tour package like enjoying houseboating, floating market or Dayak tour. The facilities are included the accommodation, transportation and everything you need during your visit. The mission is to provide you all the best services that is needed and expertise…
---
  Since 1994, they have spent most of their  life as field guides deep in the jungle and river of Borneo, with this years experiences also they are growing up in the fields as Wildlife and Culture tour guides, which know well about the adventure in Borneo and supported by their impressive and solid background of the team with depth and breadth of knowledge and experiences in the rain forest and animals, especially Orangutan. The teams are also have been voluntary for Orangutan for few years. Their adventures tour packages…
---
  PT. Orang Utan Kalimantan Tour & Travel This is one od orangutan tour companies that offering you the opportunity to see orangutans in their natural environment. Let them bring you in the mystic Tanjung Puting National Park, it located on the island of Borneo, in the Province of Central Kalimantan, Indonesia. The development of PT. Orang Utan Kalimantan was originates from loving couple, Ennog and Isabelle, who met in the jungle of Indonesia in 2006. Ennog is an Indonesian, born in the village of Kumai Subdistrict in Central Kalimantan.…
---