Borneo Island
---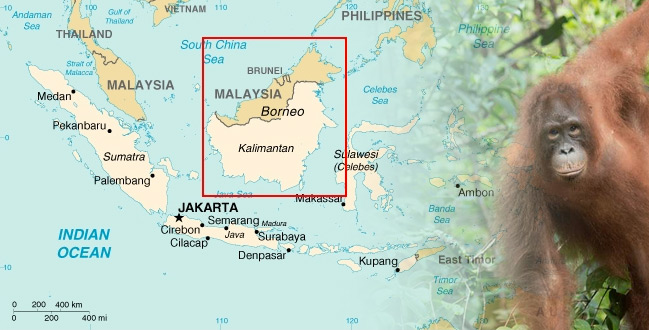 Borneo (Kalimantan) is the third largest island in the world after Greenland and New Guinea island. The total area of Borneo island is 736 000 KM 2.  The island is wet tropical climate with an average temperature of 24-25 degrees Celsius and passed by line equator.
Borneo was derived from the name of the tree Borneo (Dryobalanops camphora) then by the merchants of Europe called Borneo island or island-producing Borneo, from the Europeans were against the name of Brunei Kingdom, because at that time the kingdom of Brunei is the biggest island so that every stranger who came on this island, will visit the Kingdom of Brunei so that the name of Brunei became an icon for the island then be spoken by the tongue of Europe into Borneo which then continued to be used up to the occupation by the Dutch of "Borneo".
Although known as Borneo, this does not mean that the name Kalimantan is not known. In letters Tamjidillah Prince of the Kingdom of Banjar in 1857 to the Dutch Resident in London he mentioned the island of Kalimantan, not the island of Borneo. It shows that among the population, Kalimantan name better known than the name of Borneo used in the Dutch East Indies colonial. Even "Kalimantan" is the name used by the inhabitants of the eastern part of this island which now includes parts of Indonesia.
Formerly Borneo island in Indonesia only has one province, namely Kalimantan, which was formed on August 14, 1950 by RIS Government Regulation Number 21, 1950. Now the province is divided into 5 parts. 5 provinces are North Kalimantan, Central Kalimantan, East Kalimantan,

Latest News
PT. Borneo Lestari Tour & Travel, Pangkalan Bun – Central Borneo Borneo Eco Tour based in Pangkalan Bun – Central Kalimantan. Borneo Eco Tour under the legal Company named PT. Borneo Lestari Tour & Travel established in 17 October 2008 by Peltanadanson (Danson). This company is member of ASITA (Asociation of Indonesia Travel Agentcy): 026/XIV/DPP/2009. Its main office is on Jalan Prakusuma Yudha No. 12 in the down town and it has Borneo Eco Tour counter in Pangkalan Bun Airport on Arrival room. Regarding the office is in Pangkalan Bun…
---
Orangutan Tour Orangutan Tour is one of tour and travel company based on Central Kalimantan, Indonesia. Under the flag of PT. Borneo Lestari Tour and Travel, Orangutan Tour will guide you to explore Borneo with its natural beauty and culture. Located in Pangkalan Bun, Central Kalimantan offer you to have some tour package like enjoying houseboating, floating market or Dayak tour. The facilities are included the accommodation, transportation and everything you need during your visit. The mission is to provide you all the best services that is needed and expertise…
---
  Since 1994, they have spent most of their  life as field guides deep in the jungle and river of Borneo, with this years experiences also they are growing up in the fields as Wildlife and Culture tour guides, which know well about the adventure in Borneo and supported by their impressive and solid background of the team with depth and breadth of knowledge and experiences in the rain forest and animals, especially Orangutan. The teams are also have been voluntary for Orangutan for few years. Their adventures tour packages…
---
  PT. Orang Utan Kalimantan Tour & Travel This is one od orangutan tour companies that offering you the opportunity to see orangutans in their natural environment. Let them bring you in the mystic Tanjung Puting National Park, it located on the island of Borneo, in the Province of Central Kalimantan, Indonesia. The development of PT. Orang Utan Kalimantan was originates from loving couple, Ennog and Isabelle, who met in the jungle of Indonesia in 2006. Ennog is an Indonesian, born in the village of Kumai Subdistrict in Central Kalimantan.…
---