Rengganis Peak
---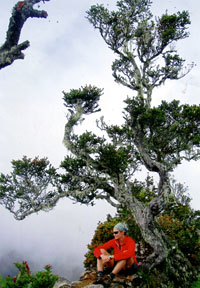 Mount Argopuro is one of the volcanic mountains that still active in East Java. It is about 2,300 km above the sea level. As a Natural Resource Conversation, mount Argopuro is worth to visiting especially for those who like hiking or mount climbing. As well as historical heritages of Blambangan kingdom and Dutch colonial, there is also a dry lake over there.
Mount Argopuro is an animal preservation area because of the population of peacocks and the beauty is so spectacular due to some reason: First, the hiking adventure of Rengganis Peak will give a special challenge to climbers because they will need at least three days round trip. Second, to reach Rengganis Peak, you have to pass Sikasur, a very wide savannah (50 ha), which used to be local airport for the Dutch military airplanes and this was the only one airport located on a mountain peak in Indonesia. Besides the peak, it is also an area of the spreading Edelweiss and will make you impressed.
On the Rengganis Peak, you will also find an old building of the kingdom Rengganis Goddess - 2,300 meters above the sea level. To reach the peak, you can start from the nearest Hotels at Pasir Putih Resort. From Pasir Putih, you can take a bus going to Surabaya bat you get off at Besuki bus Station, above 15 km and the bus fare is 2,500 rupiahs. From the bus station, you can used public transportation (bemo) to Baderan village and the distance is about 22 km and the fee is 5,000 rupiahs.
The
hiking route to peak will be better being started at 6 in the morning because you can enjoy the beautiful scenery of Mount Argopuro and also will better if you hire a guide or a porter that will help you language. You can pay above 35,000 rupiahs for per person each day including their catering. From Baderan, you can start to hike to the Second Spring (Mata Air Kedua), the distance is 6.5 km and it takes 6 hours, then you can spend the night around the Second Spring. If you are strong enough, it will be better if you go straight to Sikasur (it is above 8.5 km from the Second Spring) and you can spend the night over there. Then you can continue your hiking to Rengganis Peak and it takes about 5 hours.
It will be better if you do not spend the night on the peak because of the very cold weather and the extreme wind velocity. After reaching the peak, you can return to Sikasur and spend the night there and the next day you can return to Baderan before coming back to Pasir Putih..
Photo Gallery

Latest News
Saebus Island Pulau Saebus is an island in Kangean archipelago, and it administratively located in Sumenep Regency, Madura, East Java, Indonesia. The nearest places to Pulau Saebus are Pulau Saur (6 km west), Pulau Bangkan (6 km north), Pulau Sasiil (7 km east), and Sapeken (9 km north). Saebus island is having magnificent sea world, with the Anemone kingdom that can be seen in sloping sea. To reach Saebus island, it can be start from Surabaya to Madura and crossing to Kangean islands. It can also be start from Bali…
---
Setancak Waterfall Setancak waterfall is located in Mojosari village, Asembagus district, Situbondo. It can be reach for about 3-4 hours from the centre of Situbondo. The name of Setancak is taken from Madurese language, which means the water that spout out from the ground. the most attractive panorama in this waterfall is can be seen only at 6 A.M and 5 P.M. it said that, Setancak waterfall is a place for those swallows to take a bath. www.eastjava.com
---
Bekol Savannah Bekol savannah, is located about 12 km from the entrance Baluran National park, Situbondo regency. You will see the activity of flock deer and dows, bulls, birds and more in the morning. While, in the afternoon those are set to back to their sanctuaries. You can also see the activity of those animals' behavior from the high. The safari nuance at Bekol Savannah is seems like having safari journey at wild life Africa. There are numbers of endemic flora and fauna that live along the prairie and the…
---
Baluran National Park Baluran national park is a forest preservation area that extends about 25.000 ha on the north coast of East Java. It located in Sumberwaru village, Banyuwangi district, Situbondo, precisely on the east border of Java Island. The visitors that come to Baluran national park will experience the exotic panorama of Savannah and mount Baluran, which is inactive volcano and inhabited by exotic animals like wild pigs, deer, peacocks, wild chicken, some species of monkeys and also bulls as the protected animals in the area. Moreover, you can…
---