Pasir Putih Beach
---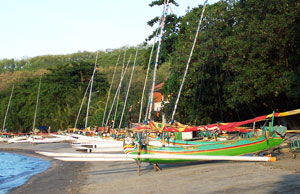 Pasir Putih Beach is a maritime and nature tourism object because it lies between a sea and a mountain. And it said that the Situbondo Pasir Putih Beach became known because of its nice and beautiful, concave beach, with its sparkling white sand. The sea, the beach, the forest and the mountain are the main tourist attractions that you can enjoy.
Pasir Putih tourist resort lies on the north coast of East Java and along Bungatan district - 21 km to the west of the centre of Situbondo and easily accessible by any transportation because it is by the side of a main road from Surabaya to Banyuwangi. It is 174 km from Surabaya to Pasir Putih Beach and takes about 4 hours by bus and about 2 hours from Ketapang, Banyuwangi
Some tourist Attractions in Pasir Putih
As a marine tourism resort, Situbondo Pasir Putih Beach is the ideal place to practice water sports, such as swimming, diving, and wind surfing. This beach also often becomes the water sports competition arena, either of regional, or national scale. Like wind surfing, sailing, as well as traditional fishing boat competitions, are often held here.
Many attractions that you can enjoy over there, they are:
Diving.
If you like Diving and under water adventure, Pasir Putih will bring you to your special satisfaction because it has beautiful under water life such as coral reef and colorful fishes.
Canoeing.
Pasir Putih provides those who like canoeing with fiber glass canoeing board.
Swimming.
It's very nice to swimming in the warm seawater of Pasir Putih tourism resort after having a great hike.
Sailing on the traditional boat. You can have great fishing or just having a close look at beautiful coral reef and colorful fishes.
Wonderful sunrise and sunset will give you special impression while your stay over there.
In October, you can see " Petik Laut" (traditional feast for fishermen held to ask for the God's mercy and blessing, in order to get prosperity by holding some festivals, shows of traditional music like "Gandrung" and also by throwing some food, cakes, the head of an ox to the sea in special ceremony.
Public Facilities
Pasir Putih tourist resort is under Situbondo local government management and operated by a state enterprise of the local authority. It provides visitor with some necessary facilities such as:
Hotels and cafes. There are some hotels such as Sido Muncul Hotel which has 44 rooms, Mutiara Hotel which has 12 rooms, Pasir Putih Hotel which has 21 rooms, 10 motels and 26 cottages, 2 cafes, convention building enough for 1000 people and a large parking area.
All night diners, which sell various seafood
Art and souvenir shops. You can buy some wooden handicraft and others.
Sightseeing Huts
A tennis court
Camping area
Public convenience and playground
A swimming pool
A convention hall
Car rental and it is cost 350.000 for 18 hours (not including driver and fuel)
The route

You can get to Pasir Putih from two directions. First, from Bungurasih (Surabaya bus station), you can take the bus going to Banyuwangi and the fare is 16.000 rupiahs by a regular bus and it takes about 4 hours, but the fare is 26.000 rupiahs if you take patas bus (an air conditioned two-two seat which round trip route in one province with fixed fares). The second direction is from Banyuwangi, you can take the bus station with the bus fare of 13.000 rupiahs and from the station you can take a public transportation (bemo) or regular bus and fare is about 2.500 rupiahs.
Photo Gallery

Latest News
Saebus Island Pulau Saebus is an island in Kangean archipelago, and it administratively located in Sumenep Regency, Madura, East Java, Indonesia. The nearest places to Pulau Saebus are Pulau Saur (6 km west), Pulau Bangkan (6 km north), Pulau Sasiil (7 km east), and Sapeken (9 km north). Saebus island is having magnificent sea world, with the Anemone kingdom that can be seen in sloping sea. To reach Saebus island, it can be start from Surabaya to Madura and crossing to Kangean islands. It can also be start from Bali…
---
Setancak Waterfall Setancak waterfall is located in Mojosari village, Asembagus district, Situbondo. It can be reach for about 3-4 hours from the centre of Situbondo. The name of Setancak is taken from Madurese language, which means the water that spout out from the ground. the most attractive panorama in this waterfall is can be seen only at 6 A.M and 5 P.M. it said that, Setancak waterfall is a place for those swallows to take a bath. www.eastjava.com
---
Bekol Savannah Bekol savannah, is located about 12 km from the entrance Baluran National park, Situbondo regency. You will see the activity of flock deer and dows, bulls, birds and more in the morning. While, in the afternoon those are set to back to their sanctuaries. You can also see the activity of those animals' behavior from the high. The safari nuance at Bekol Savannah is seems like having safari journey at wild life Africa. There are numbers of endemic flora and fauna that live along the prairie and the…
---
Baluran National Park Baluran national park is a forest preservation area that extends about 25.000 ha on the north coast of East Java. It located in Sumberwaru village, Banyuwangi district, Situbondo, precisely on the east border of Java Island. The visitors that come to Baluran national park will experience the exotic panorama of Savannah and mount Baluran, which is inactive volcano and inhabited by exotic animals like wild pigs, deer, peacocks, wild chicken, some species of monkeys and also bulls as the protected animals in the area. Moreover, you can…
---