Probolinggo Traditional Art
---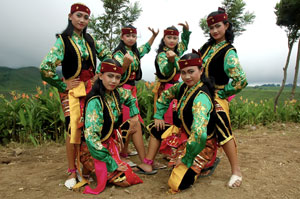 Kiprah Glipang Dance
Kiprah Glipang dance which is one of Probolinggo traditional dance and has been develop among the people's life. This dance is conducted by the traditional music called "Glipang". This dance reflected how strong and firm the men who join and become the soldier.
Kiprah Glipang popularly came from Pendil – Banyuanyar village, that's why people say that Pendil – Banyuanyar is the place of Kiprah Glipang from. In fact, Pendil village in Banyuanyar district is publishing this traditional dance to all over Probolinggo area.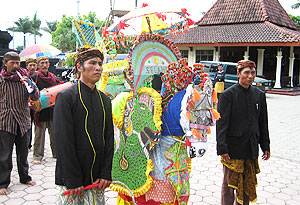 Ngiring Kucing Ceremony
Ngiring kucing ceremony is one of Indonesia traditional ceremony that comes from Probolinggo regency. It is held in Wonokerso village, Sumber district, Probolinggo regency, East java. The local inhabitant in that area is Tengger Javanese ethnicity who stay around Mount Bromo. Ngiring kucing is one of the traditional dance that always be celebrate till this period.
The equipment for Ngiring Kucing ceremony
A male black cat
Kuda Kencak, we can say "crazy horse" that usually used for circumstance event.
Ketipung (like a small drum in gamelan ensemble) this is the instrument that can be used for 'Kuda kencak' procession and any other ceremony. This ketipung is a Tenggeresse instrument.
Sesaji, is Ritual offering. It contains agricultural produce, animals and pets.
(Source From Mr. Trombol)
Tugel Kuncung Ceremony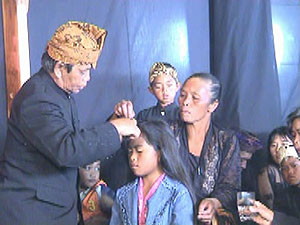 Tugel kuncung ceremony or Tugel gombak is also one of traditional ceremony that held by Tengger society in wonokerso village, Sumber district, Probolinggo regency, East Java. This ceremony held for four years old boy, who are ready to take the initiation. The boys' forehead hair has been cut in order to get bless and welfare from God. In other word, Tugel Kuncung is hair cut ceremony for the boys, while; Tugel Gombak is the ceremony for the girls. This ceremony is obliged ceremony for Tengger people, which held once in a lifetime. The paranormal is cutting their hair. Before the ceremony, the society saying together in prays in local Pura.
Local societies believe that Tugel Kuncung and Tugel Gombak refer to throw the bad luck away from the puberty teenage. Hope, by this ceremony they will avoided by the obstacle in life and have prosperity in the future. (Source From Mr. Trombol)
Wayang Topeng (Mask Puppet)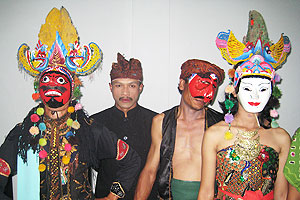 Mask puppet is other form of Puppet shows in East Java. Mask puppet is growing in Malang, Probolinggo, Situbondo and Sumenep. The show is like a human puppet, which are the artist played by the human players use mask. The story itself based on Mahabarata and Ramayana classic story, but in Topeng of Malang, there is also Panji's story (A classic Javanese hero)

Latest News
Gili Ketapang Gili Ketapang is a village and a small island in the Madura Strait, exactly 8 km off the north coast of Probolinggo. Administratively, the island includes the District of Sumberasih, Probolinggo, East Java. Its area is about 68 hectare, and most of the inhabitant are Madura tribe whose live as fisherman. The population of the island is known for relatively affluent. Gili Ketapang is one of natural destinations in Probolinggo. The island is connected to Java island, which can be reach by boat through the Port of Tanjung…
---
Mask Puppet Mask puppet is other form of Puppet shows in East Java. Mask puppet is growing in Malang, Probolinggo, Situbondo and Sumenep. The show is like a human puppet, which the puppet played by the human players using mask. The story itself based on Mahabarata and Ramayana classic story, but in Topeng of Malang, there is also Panji's story, a classic Javanese hero. More info www.eastjava.com
---
Tenggerese People Tenggerese or Tengger People is one of Indonesian tribes that live around Bromo Mountain which located around Pasuruan, Lumajang, Probolinggo and Malang Regency. The Tenggerese are the descendants of the Majapahit Princes. Their population is about 600.000 inhabitants within thirty villages. Tenggerese are being known as obedient Hindu followers. For them, Bromo Mountain is sacred. In once in a year they held ceremony of Kasada or Yadnya Kasada as a thanks giving to the Lord. This ceremony is always held in midnite in full moon time around date…
---
Tengger People Tenggerese or Tengger People is one of Indonesian tribes that live around Bromo Mountain which located around Pasuruan, Lumajang, Probolinggo and Malang Regency. The Tenggerese are the descendants of the Majapahit Princes. Their population is about 600.000 inhabitants within thirty villages. Tenggerese are being known as obedient Hindu followers. For them, Bromo Mountain is sacred. In once in a year they held ceremony of Kasada or Yadnya Kasada as a thanks giving to the Lord. This ceremony is always held in midnite in full moon time around date…
---