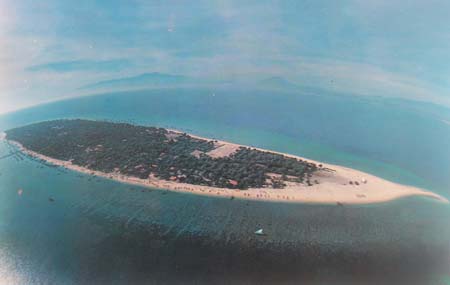 Gili Ketapang
Gili Ketapang is a village and a small island in the Madura Strait, exactly 8 km off the north coast of Probolinggo. Administratively, the island includes the District of Sumberasih, Probolinggo, East Java.
Its area is about 68 hectare, and most of the inhabitant are Madura tribe whose live as fisherman. The population of the island is known for relatively affluent. Gili Ketapang is one of natural destinations in Probolinggo. The island is connected to Java island, which can be reach by boat through the Port of Tanjung Copper, Probolinggo, for about 30 minutes.
According to local legend, the island was once united with the mainland village of Ketapang (Java), which then magically moved slowly out to sea, because the devastating earthquake that caused by the eruption of Mount Semeru. Gili Ketapang name comes from Madura, Gili which means flow, and Ketapang is the name of the village.
www.indonesia-tourism.com