Probolinggo Agro Tourism
---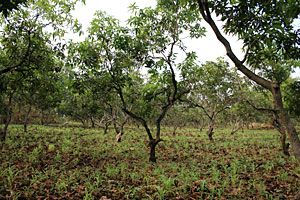 Probolinggo is famous as Mango and Grape city, which is produce many fruits. Most people recognized Probolinggo Mango. Its taste is sweet and fresh. At May – October, Probolinggo Mango spread all over markets to many cities until Jakarta. For outside of Probolinggo regency, the price will be over-price, but in Probolinggo area, the price is quiet cheap, so that the visitors buy it for some gift.
If you interesting with Probolinggo fruits, you can choose between Mango and Grape. Because those are the famous fruits of Probolinggo.
Visit Grape Garden And Mango Garden In Probolinggo Agro Tourism.
Mango Plantation And Grape Garden Is One Of Main Product Of Probolinggo Tourism
Click The Pictures To Enter Photos Gallery
Photo Gallery

Latest News
Gili Ketapang Gili Ketapang is a village and a small island in the Madura Strait, exactly 8 km off the north coast of Probolinggo. Administratively, the island includes the District of Sumberasih, Probolinggo, East Java. Its area is about 68 hectare, and most of the inhabitant are Madura tribe whose live as fisherman. The population of the island is known for relatively affluent. Gili Ketapang is one of natural destinations in Probolinggo. The island is connected to Java island, which can be reach by boat through the Port of Tanjung…
---
Mask Puppet Mask puppet is other form of Puppet shows in East Java. Mask puppet is growing in Malang, Probolinggo, Situbondo and Sumenep. The show is like a human puppet, which the puppet played by the human players using mask. The story itself based on Mahabarata and Ramayana classic story, but in Topeng of Malang, there is also Panji's story, a classic Javanese hero. More info www.eastjava.com
---
Tenggerese People Tenggerese or Tengger People is one of Indonesian tribes that live around Bromo Mountain which located around Pasuruan, Lumajang, Probolinggo and Malang Regency. The Tenggerese are the descendants of the Majapahit Princes. Their population is about 600.000 inhabitants within thirty villages. Tenggerese are being known as obedient Hindu followers. For them, Bromo Mountain is sacred. In once in a year they held ceremony of Kasada or Yadnya Kasada as a thanks giving to the Lord. This ceremony is always held in midnite in full moon time around date…
---
Tengger People Tenggerese or Tengger People is one of Indonesian tribes that live around Bromo Mountain which located around Pasuruan, Lumajang, Probolinggo and Malang Regency. The Tenggerese are the descendants of the Majapahit Princes. Their population is about 600.000 inhabitants within thirty villages. Tenggerese are being known as obedient Hindu followers. For them, Bromo Mountain is sacred. In once in a year they held ceremony of Kasada or Yadnya Kasada as a thanks giving to the Lord. This ceremony is always held in midnite in full moon time around date…
---