Kedaton Temple
---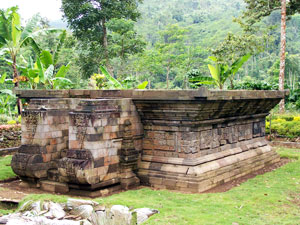 Kedaton Temple is one of the unique temples that made of Andesit stone. This temple built about the end of XIV century is unique temple with beautiful scenery around. It is located in 60 km to south of Probolinggo at Argopuro valley.

The summary of Garudeya story has carved on its relief. The location of this Hindu building is in Lawang Kedaton sub-village, Andungbiru village, Tiris district, Probolinggo regency. The temple sized 6 meters square and has year signed on its stair, 1292 saka (1370 A.D).
Kedaton temple has 33 relief on the temple's feet. Beside Garudeya story, some relief are told about legend story, such as; Arjunawiwaha and Bhomakwya. The other relief story has not known yet.

Garudeya story described in three relief. Two relief published by Bernet Kempers in 1959 in his famous book, Ancient Indonesian Art. One relief is the scene of Eagle open his mouth to eat residents; the other relief is the scene of Eagle say thank you to his mother.

The small Kedaton temple seems has big attractive value of its relives. Bernet Kempers published the other two relives that described about legend of Bhomakawya. "A Very Emotional Scene", said Kempers to a relief that described Samba, Khresna's son, visit Princess Yajnavati before he fight with a Giant soldier.

Beside Bernet Kempers, Balai Arkeologi Yogyakarta (Archeology Center In Yogyakarta) consider the important of Kedaton temple relives as the source about flora and fauna, and also the source about ancient Java fashion. Those are described on the relives and has documented in 1997.
Photo Gallery

Latest News
Gili Ketapang Gili Ketapang is a village and a small island in the Madura Strait, exactly 8 km off the north coast of Probolinggo. Administratively, the island includes the District of Sumberasih, Probolinggo, East Java. Its area is about 68 hectare, and most of the inhabitant are Madura tribe whose live as fisherman. The population of the island is known for relatively affluent. Gili Ketapang is one of natural destinations in Probolinggo. The island is connected to Java island, which can be reach by boat through the Port of Tanjung…
---
Mask Puppet Mask puppet is other form of Puppet shows in East Java. Mask puppet is growing in Malang, Probolinggo, Situbondo and Sumenep. The show is like a human puppet, which the puppet played by the human players using mask. The story itself based on Mahabarata and Ramayana classic story, but in Topeng of Malang, there is also Panji's story, a classic Javanese hero. More info www.eastjava.com
---
Tenggerese People Tenggerese or Tengger People is one of Indonesian tribes that live around Bromo Mountain which located around Pasuruan, Lumajang, Probolinggo and Malang Regency. The Tenggerese are the descendants of the Majapahit Princes. Their population is about 600.000 inhabitants within thirty villages. Tenggerese are being known as obedient Hindu followers. For them, Bromo Mountain is sacred. In once in a year they held ceremony of Kasada or Yadnya Kasada as a thanks giving to the Lord. This ceremony is always held in midnite in full moon time around date…
---
Tengger People Tenggerese or Tengger People is one of Indonesian tribes that live around Bromo Mountain which located around Pasuruan, Lumajang, Probolinggo and Malang Regency. The Tenggerese are the descendants of the Majapahit Princes. Their population is about 600.000 inhabitants within thirty villages. Tenggerese are being known as obedient Hindu followers. For them, Bromo Mountain is sacred. In once in a year they held ceremony of Kasada or Yadnya Kasada as a thanks giving to the Lord. This ceremony is always held in midnite in full moon time around date…
---