Probolinggo Special Food
---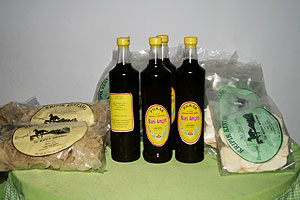 Probolinggo has many traditional foods. The most famous of them is Soto Kraksan, which is kind of chicken soup, cooked in very thick coconut milk and served with a bowl rice and "Lontong".
Although, Soto is the most popular food in Indonesia, but there are many traditional foods which rich and worth to try. The uniquely of Soto Kraksaan is made of healthy hen. If we use a cock, it will affect the taste. The other special side of this food is its coconut pollen, presents with sharp spice and slices of lemon. This Soto Kraksaan is found in Kraksaan district, located about 25km of Probolinggo city.
Beside that traditional food, Probolinggo has some home industries that move on food and snacks of Probolinggo. One of them is Potato Chips, made of fresh potato to become crisp potato chips.
The other is Pokak, some beverage that made of Indonesia spices, such as; amomum caramomum, cinnamomum verum, syzgium aromaticum, ginger and some sugar. It packaged into bottles and categorized in health beverage.
Photo Gallery

Latest News
Gili Ketapang Gili Ketapang is a village and a small island in the Madura Strait, exactly 8 km off the north coast of Probolinggo. Administratively, the island includes the District of Sumberasih, Probolinggo, East Java. Its area is about 68 hectare, and most of the inhabitant are Madura tribe whose live as fisherman. The population of the island is known for relatively affluent. Gili Ketapang is one of natural destinations in Probolinggo. The island is connected to Java island, which can be reach by boat through the Port of Tanjung…
---
Mask Puppet Mask puppet is other form of Puppet shows in East Java. Mask puppet is growing in Malang, Probolinggo, Situbondo and Sumenep. The show is like a human puppet, which the puppet played by the human players using mask. The story itself based on Mahabarata and Ramayana classic story, but in Topeng of Malang, there is also Panji's story, a classic Javanese hero. More info www.eastjava.com
---
Tenggerese People Tenggerese or Tengger People is one of Indonesian tribes that live around Bromo Mountain which located around Pasuruan, Lumajang, Probolinggo and Malang Regency. The Tenggerese are the descendants of the Majapahit Princes. Their population is about 600.000 inhabitants within thirty villages. Tenggerese are being known as obedient Hindu followers. For them, Bromo Mountain is sacred. In once in a year they held ceremony of Kasada or Yadnya Kasada as a thanks giving to the Lord. This ceremony is always held in midnite in full moon time around date…
---
Tengger People Tenggerese or Tengger People is one of Indonesian tribes that live around Bromo Mountain which located around Pasuruan, Lumajang, Probolinggo and Malang Regency. The Tenggerese are the descendants of the Majapahit Princes. Their population is about 600.000 inhabitants within thirty villages. Tenggerese are being known as obedient Hindu followers. For them, Bromo Mountain is sacred. In once in a year they held ceremony of Kasada or Yadnya Kasada as a thanks giving to the Lord. This ceremony is always held in midnite in full moon time around date…
---