Pasuruan Town Square
---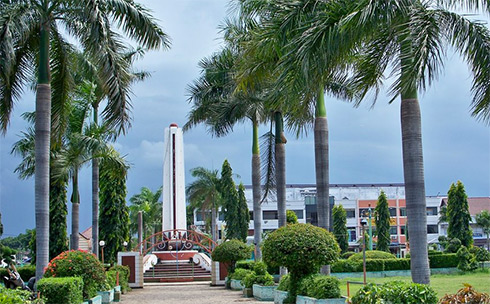 Pasuruan town square is located in the heart of downtown of Pasuruan city. This square is bordered by Jami 'Al Anwar mosque in the west. This mosque seemed to witness the development of the town square, because it had already been established since 5 centuries ago. Geographically, the town square is located not far from the North Coast of Java, it approximately 3km to the north.
Pasuruan town square is identical to a shady city park, where there are some ornamental plants, grass, park benches and a jogging track. The square is crowded during morning and afternoon, and will increasingly crowded during the event that held around the square. Moreover, there are always crowded with pilgrims who visiting the tomb of one of the Islamic characters in Pasuruan, KH Abdul Jamid, which is located behind the Jami 'Al Anwar Mosque.
Not far from the square there are also several new shopping arcade that have sprung up in the town of Pasuruan, which brings a lot of visitors each day. Automatically, the visitors who want to relax will come to the town square to unwind.
Around the square there are few sellers of food and drinks that can be enjoyed in the shade around the square. Each visitor is expected to remain able to maintain the cleanliness of the park to dispose of waste in place, while maintaining the beauty of the city with good.