Sunan Drajat
---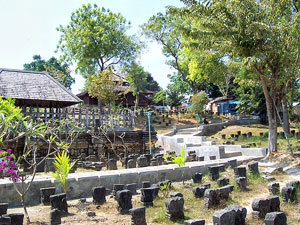 Sunan Drajat is one of the charismatic of an Islam spreaders in Java who is called Wali Songo. He was very intelligent man and people called him Raden Qosim. His father, Sunan Ampel sent him to Aceh and Mocca to study Islam. After finishing his study, he taught Islam at the north coast of Java especially at Paciran, Lamongan.
As a religious teacher, Sunan Drajat was known as the social Moslem who paid much attention to the poor. He developed the social welfare first then he taught his doctrines. To respect his great struggle, the local government of Lamongan Regency built a museum in the complex of the cemetery and it was officially opened by the governor of East Java on March, 31 1992.
This grave is located at Paciran village, Lamongan district. Generally, the pilgrims of this grave are domestic tourist. Besides, tourists from Asian countries also often visit it. The facilities that the tourists can get in this graveyard are; parking area, mosque, restaurants, rest place and bathroom. Those facilities are prepared for the tourists, in order to get their pleasure to come to this place.
Photo Gallery

Latest News
Wingko Wingko is one of Indonesia traditional foods. People recognize this food as Wingko Babat from Semarang, Central Java. Whereas, Babat is a small town in Lamongan Regency, East Java. And it is true; this food is particularly Lamongan traditional food. Wingko is a typical of cake which made by coconut and sticky rice. It taste sweet and savoury at the same time, and having chewy texture in every bite. It mostly having round shape or in small round flips. The taste of savory from the coconut milk that blend…
---
Caping Dance Caping Ngancak Dance Caping Ngancak dance is one of traditional dances in Lamongan regency. The dance is describes about farmers in their rice field showing the process from grow the rice until they get harvest. Like farmers, the dancers also wearing 'Caping', which is a special hat that only wore by farmer in Indonesia. This dance is performed by group of young females who wore village costumes in modern style and bring Caping as the main property. www.EastJava.com
---
Soto Lamongan This food is one of the famous foods in entire Indonesia. Soto, is such a beef or chicken soup. In some regency in East Java or even in Indonesia have their own type of soto. The most famous one is coming from Lamongan. Soto Lamongan have rich ingredients that mix together into a bowl completed by hot spicy broth. The condiments are: rice, glass noodle, chicken shredded, chicken liver, young egg, boil shredded egg, fried onion and celery. Do not forget the sambal sauce to make it hotter…
---
Wingko Wingko is one of Indonesia traditional foods. People recognize this food as Wingko Babat from Semarang, Central Java. Whereas, Babat is a small town in Lamongan Regency, East Java. And it is true; this food is particularly Lamongan traditional food. Wingko is cake made by coconut and sticky rice. It taste sweet and savoury at the same time, and having chewy texture in every bite. It mostly having round shape or in small round flips. It sweet everyone… www.eastjava.com
---