Furniture & Handicraft
---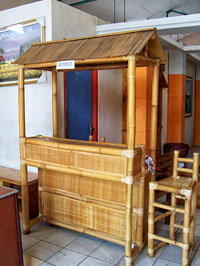 At present, the number of small industry in Lamongan, either formal or npon-formal ones, reaches 23,843 units. Among those small industries and people's crafts, some have exported the products to the markets of Korea, Belgium, Australia, and Germany. They are wooden craft, earthen ware craft, bamboo-plaited craft, bicycle-saddle craft, bag craft made of Enceng Gondok (water hyacinth) in Lamongan and Mantup village, small industry center of ATBM bounded weaving in Parengan Maduran, hand-written Batik craft, embroidery, and gold craft in Sendang Agung and Sendang Dhuwur Paciran.
The home industry of sport clothing and jacket has also rapidly develped in Tritunggal village, Babat district, supplying the commerce need in Pasar Turi market, Kembang Jepun market and Klewer market. It also meets the need of school uniforms in some regions of East Java and Kalimantan province.
The industry of Elreas carpet in Lamongan has covered and dominated the markets in East Java, Solo, Yogyakarta, Bali, and Bandung because of its practical packing, long lasting, and achievable price for any layers of society.
In addition, various kinds of people's crafts also grow and expand in villages such as bos kopyah (Moslem caps), plastic-plaited shopping bags, bamboo-plaited craft, salted fish, kecap (saoy sauce), red brick, earthen vessels and food products of Jenang and Wingko Babat, which have been well-known throughout the region.
Bag Handicraft
This bag handicraft industry is located in 146th Jl. Sunan Drajat, Lamongan regency, East Java. The bags that are made from water hyacinth plant with the beautiful ornaments are breaking through the export market.
Bamboo Furniture
The bamboo industries are located on 146th Jl. Sunan Drajat, Lamongan regency and in Mantub village. It's produce many kinds of house hold and interior made from bamboo.
Terracotta
Terracotta or pottery craft home industry that is located in 7th Jl. Pembangunan Lamongan, has success to reach the export market such as Korea, Belgia, Australia and German.
Cobek Industry
Cobek is Indonesia word for mortar and pestle. Cobek is not only made for the need of local market, but it is also exported to several countries.
Coconut Shell Handicraft
The other unique handicraft from Lamongan, is coconut shell handicraft that produce in various and unique form. Those unique handicraft usually bought by the visitors of Lamongan tourism or to be export.
Traditional Wedding Dress
The other industry that typical of Lamongan is traditional weeding dress. This wedding dress usually wear by the bridge and the groom in a weeding ceremony.

Latest News
Wingko Wingko is one of Indonesia traditional foods. People recognize this food as Wingko Babat from Semarang, Central Java. Whereas, Babat is a small town in Lamongan Regency, East Java. And it is true; this food is particularly Lamongan traditional food. Wingko is a typical of cake which made by coconut and sticky rice. It taste sweet and savoury at the same time, and having chewy texture in every bite. It mostly having round shape or in small round flips. The taste of savory from the coconut milk that blend…
---
Caping Dance Caping Ngancak Dance Caping Ngancak dance is one of traditional dances in Lamongan regency. The dance is describes about farmers in their rice field showing the process from grow the rice until they get harvest. Like farmers, the dancers also wearing 'Caping', which is a special hat that only wore by farmer in Indonesia. This dance is performed by group of young females who wore village costumes in modern style and bring Caping as the main property. www.EastJava.com
---
Soto Lamongan This food is one of the famous foods in entire Indonesia. Soto, is such a beef or chicken soup. In some regency in East Java or even in Indonesia have their own type of soto. The most famous one is coming from Lamongan. Soto Lamongan have rich ingredients that mix together into a bowl completed by hot spicy broth. The condiments are: rice, glass noodle, chicken shredded, chicken liver, young egg, boil shredded egg, fried onion and celery. Do not forget the sambal sauce to make it hotter…
---
Wingko Wingko is one of Indonesia traditional foods. People recognize this food as Wingko Babat from Semarang, Central Java. Whereas, Babat is a small town in Lamongan Regency, East Java. And it is true; this food is particularly Lamongan traditional food. Wingko is cake made by coconut and sticky rice. It taste sweet and savoury at the same time, and having chewy texture in every bite. It mostly having round shape or in small round flips. It sweet everyone… www.eastjava.com
---