Lamongan Culinary Tourism
---
Boranan Rice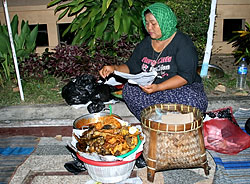 Lamongan has been famous by its particular food like Soto or Wingko Babat, another traditional food which sometimes been forgotten is Boranan Rice. Boranan rice become favorite food for Lamongan inhabitant. This food is serve with banana's leaf which makes it more traditional, it also serve in many side dishes like soy bean cake or Tempe, Tofu, Fishes, Chicken, Rempeyek or chips and for sure, rice.
Boranan rice or 'Sego Boranan' is a traditional food from Lamongan, East Java. It is not very popular from other area, for Lamongan is the one that has this food. We can find this food around the traditional market in Lamongan. Boranan rice is consist of: rice, the sauce, the side dishes, rempeyek or chips. The sauce for this rice is very rich, the side dishes also in variant like meat, chicken, the innards, milk fish, scrambled egg, salty egg, tofu, soy bean cake, and the most expensive fish - the Sili fish.
Boranan rice is similar with Jamblang rice from Cirebon, West Java, which is serve by using teak leaf. the thing which makes Boranan rice become more particular is coming from the Sili fish and the chili sauce. Sili fish is taste sweet like a sardine fish, a smoke sardine.
Soto Lamongan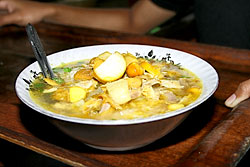 Soto lamongan is different with any other Soto. Soto Lamongan is the only Soto which using Koya or some kind of garlic powder. The side dish for this food is chicken, that is a free-range chicken, which is been steam with the spices before
At first, the soup for this Soto is clear, but as the time goes by it has an acculturation with Surabaya Soto, which use milk fish for the soup. The early begin why using Koya is not been sure, the fact that Koya is made from shrimp cracker and fried garlic, which both of them are pounded manually.
Soto Lamongan is consist of, rice, chicken, egg, the young egg or 'Uritan', celery, so'un noddle, and soup. There two ways to serve Soto Lamongan, in partly or mix in one bowl. In partly means that your rice will be parted from the soup and the dishes, or you can mix all the ingredient into one bowl. The ingredients from this Soto are coriander, caraway seed, lemon grass, onion, garlic, ginger, galangale, pepper, salt, candle nut andfried onion. Beside, Soto Lamongan also consist of carbohydrate, protein, fat, vitamin and some other mineral from the meat, milk fish and the green vegetable.
Tahu Campur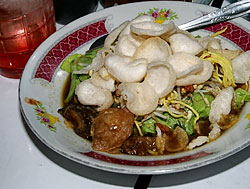 Tahu campur or Mix Tofu is such an icon for Lamongan. As mentioned, the main ingredient from this food is must be tofu, but sometimes tofu itself is not dominate the whole component from this food, together with Lontong, oddle, bean sprouts, meat, and shrimp cracker. The additional ingredient which makes this food more awesome is coming from petis, kind of sauce made by fermented shrimp. Tahu campur consist of, tofu, meat, lontong, noddle, bean sprout, lettuce, and lento. Lento is like piece of cake made from cassava. The existence of tahu campur nowadays is become a healthy food among any other junk food, because it contain more vitamin, protein, fat and carbohydrate.
Wingko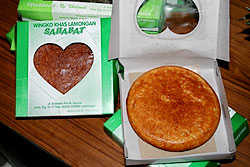 Wingko or famous with Wingko Babat is also one of Indonesian traditional food. Wingko is kind of cake made by coconut as a main ingredient. Wingko is sometimes become a gift from the passenger who passing by to Lamongan. That makes Wingko become more famous. Sometimes, people get mistaken that Wingko is actually coming from Semarang, Mid Java. The fact is Wingko Babat is coming from Babat, a small area in Lamongan, East Java. Babat is near to Bojonegoro, which is well-known as a wood producer.

Latest News
Wingko Wingko is one of Indonesia traditional foods. People recognize this food as Wingko Babat from Semarang, Central Java. Whereas, Babat is a small town in Lamongan Regency, East Java. And it is true; this food is particularly Lamongan traditional food. Wingko is a typical of cake which made by coconut and sticky rice. It taste sweet and savoury at the same time, and having chewy texture in every bite. It mostly having round shape or in small round flips. The taste of savory from the coconut milk that blend…
---
Caping Dance Caping Ngancak Dance Caping Ngancak dance is one of traditional dances in Lamongan regency. The dance is describes about farmers in their rice field showing the process from grow the rice until they get harvest. Like farmers, the dancers also wearing 'Caping', which is a special hat that only wore by farmer in Indonesia. This dance is performed by group of young females who wore village costumes in modern style and bring Caping as the main property. www.EastJava.com
---
Soto Lamongan This food is one of the famous foods in entire Indonesia. Soto, is such a beef or chicken soup. In some regency in East Java or even in Indonesia have their own type of soto. The most famous one is coming from Lamongan. Soto Lamongan have rich ingredients that mix together into a bowl completed by hot spicy broth. The condiments are: rice, glass noodle, chicken shredded, chicken liver, young egg, boil shredded egg, fried onion and celery. Do not forget the sambal sauce to make it hotter…
---
Wingko Wingko is one of Indonesia traditional foods. People recognize this food as Wingko Babat from Semarang, Central Java. Whereas, Babat is a small town in Lamongan Regency, East Java. And it is true; this food is particularly Lamongan traditional food. Wingko is cake made by coconut and sticky rice. It taste sweet and savoury at the same time, and having chewy texture in every bite. It mostly having round shape or in small round flips. It sweet everyone… www.eastjava.com
---