Kebun Bibit in Kediri Regency, East Java Province
---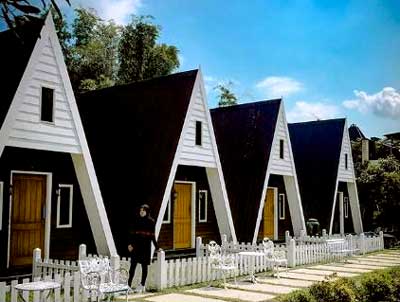 For tourists who look a new experience during holidays, they must choose Kediri's Kebun Bibit. In terms of name, it means the Seed Garden. As the name suggests, the site offers numerous types of seeds of fruits and plants. That means people can learn thoroughly about these plants during the visit. It is suitable for a family recreation, especially parents who want to teach their kids about flora. In some cases, the garden becomes a nice place for hanging out! Thanks to the facility. So, where is the location? It resides in Tegowangi Village and belongs to Plemahan Sub-District.
The Nuance
Kebun Bibit Park applies a natural theme. No wonder, it feels both refreshing and comfortable there. At the entrance, a unique gate welcomes everyone. It is made of piles of bamboos and features a beautiful name sign as well. Not to mention several gazebos and lush plants reside in that area. The nuance is considered crowded due to the popularity. Most of the visitors are local families who often come with kids. Have no worries. Despite the crowd, it feels rejuvenating due to the rural atmosphere.
Exploring Kebun Bibit
Even though the popularity is inferior to that of Malang's green park, Kebun Bibit offers the same quality when it is about facilities and features. The most common motive for visiting the garden is to feel the refreshing nuance. People also come to the site for the educational recreation, actually. They come with their kids or family members in order to learn various types of fruits and plants. The most popular ones are mangoes, Durian, and other local exotic fruits! Both fruits and seeds can be seen there, in fact.
Kebun Bibit has an excellent facility as well as accommodation. For example, tourists would find gazebos! They can use it for sitting comfortably or hang out with families, for sure. Some people even carry foods and eat together with either friends or family members on the gazebo! After relaxing at the facility, they can start exploring the garden. Some good spots to visit are the fruit garden, natural café, and seed center. It doesn't require a local guide to explore the site, actually. Thanks to the regular size of the area.
Next, tourists must spend some time to enjoy photography. Both the environment and panorama are good enough as the photo background, after all. Before going home, it is also recommended to buy some fruits especially Durian! For those who want to spend more than one day, they can even rent a homestay there!
Nearby Attractions

Tegowangi Temple
Jambu Village
Harinjing River
Carambola Garden
How to Get There
Before heading to Kebun Bibit, tourists need to reach Kediri Regency first. The trip may take depending on where they come from, actually. For example, it takes approximately 1 hour and 59 minutes from the capital of East Java Province or Surabaya City. The distance is 120 km and the best route to take is Surabaya – Mojokerto Highway. Next, tourists can simply take Mojokerto – Kertosono Highway. Once getting to the downtown, tourists can simply take Raden Ajeng Kartini and head to Kebun Bibit right away. The distance is 14.9 km, so this trip may take around 25 minutes only.
Where to Stay

MM House
Saigon Camp
Surya Kediri Hotel

Latest News
Tegowangi Temple Tegowangi temple is one of ancient temple in Kediri region. This temple has saved many stories about Kediri history. There are some reliefs on the temple wall that interest the tourists who like the historic tourism. The temple is stand in one complex and it looks like a rectangular form. This temple is one historical tourism objects in Kediri regency. Find the historic value by visit this old temple. More info visit www.eastjava.com
---
Mount Kelud Today, Mount kelud is very phenomenal with its new dome that exists from its lake. To reach Mount kelud, the visitors can use motorcycle and the direction come from Kediri to Wates continued to Margomulyo – Bambingan till Jurang Gelap or Mount Pedot. From Jurang Gelap till the new dome of Mount kelud is about 2 km and you can go on foot. Mount kelud has change, it had green crater before explode, but today the beautiful crater is gone and turn up new crater that different from…
---
Bukit Daun Hotel And Resto Bukit Daun Hotel And Resto Is a Located Argowilis Street 777, kediri East Java. It has great sense of uniqueness, ethnic and fresh air. This hotel is so cool. The distance is about 5 km from the town of Kediri in the way to Puhsarang. The location is in the hills with nice hotel setting and cozy atmosphere. The rate of only 170-600 thousand a night, it is a very recommended for family lodging The facilities are about large pool, nice room, and the calm…
---
Puhsarang Church This church is located in Puhsarang village, Semen district of Kediri, that's why it is called Puhsarang Church. The location is 10 km in western Kediri City. This old church had built by Ir. Heendricus Maclaine on behalf of pioneer Mr. Yohanes Humbertus Wolters CM in 1931. The architecture is collaboration between European and Majapahit, combination with other local cultures and Christianity. The first establishment of the complex is the "Antique Church", Puhsarang Church. The structure of the church has unique architectural style form and we can see…
---