Visiting Kediri Regency in East Java Province
---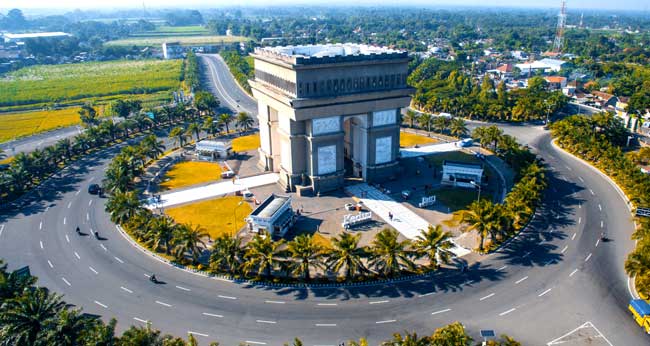 In East Java Province, tourists have many good vacation destinations including Kediri Regency. The location is a little bit far from Surabaya City (the capital of the province), though. The fact is Kediri becomes the third biggest city in the region and has lots of interesting tourist sites including monuments, natural attractions, recreational areas, historical places, and traditional villages. However, tourists won't find beaches there. Another interesting fact is the city becomes the biggest producer of cigarettes and sugar! No wonder, the popularity is excellent and tourists are interested to visit it over time.
The Nuance
As mentioned before, Kediri Regency indeed is wide and it has a total area of about 6,340 hectares. It passes through by the famous Brantas River and resides on the feet of a volcano called Wilis Mountain. The environment is fine and tourists can find some good highlands for trekking there. What about the locals? People who live in Kediri come from numerous tribes including Arabian and Chinese, in fact! As for the facilities and accommodations, the quality is excellent. Kediri is considered a developed region, after all.
Exploring Kediri Regency
Some people perhaps wonder what they can do in Kediri during holidays. Well, these include religious and natural tourism. Most tourists also want to enjoy local cuisine and a family recreation there. For those who love nature and adventure, in this case, they should choose Pojok Village where the famous Selomangleng Cave resides. As an alternative, tourists can visit some historical sites like temples, museums, and monuments. Some of the best choices are Setono Gedong Temple, Tjio Hwie Kiong Vihara, and Airlangga Museum. For the best reference, it is recommended to ask either a local guide or tour agent there.
Families who come with their kids are likely to have a good time in Kediri Regency. It is because they can play water and swim at Selomangleng Waterpark and other recommended places like Pagora or Tirtoyoso Swimming Pool. For hanging out and relaxation, Kediri offers Sekartaji Park and the town square. Later, tourists must visit some religious sites for a better vacation experience! These include Mbah Wassil Ancient Tomb and some majestic local mosques!
What is next? Kediri Regency is suitable for a culinary adventure. That means tourists should explore all parts of the region and try some traditional foods including Soto, Gethuk Gedhang, Tahu Takwa, Pecel, and Jagung Bakar. The good thing is tourists can enjoy those foods while feeling the local atmosphere. It is because most of those foods are sold on streets instead of restaurants. Eating together with the locals would be a good experience, no?
Nearby Attractions

Tirukidul Inscription
Watu Gajah
Pohsarang
Kelud Mountain
Harinjing River
How to Get There
It is easy to reach Kediri Regency, as it is one of the most famous regions in East Java Province. From Surabaya City, in this case, the trip may take approximately 1 hour and 59 minutes. It is because the distance is 120 km. Have no worries. It can be faster if tourists take Surabaya – Mojokerto Highway. Next, it is recommended to take Mojokerto – Kertosono Highway. Later, after arriving at Kediri, they can simply get a hotel for resting before exploring the region. It is better to hire a local guide too, later.
Where to Stay

Slamet Hotel
Amanda Hotel
Kediri 1 Hotel
Surya Kediri Hotel

Latest News
Tegowangi Temple Tegowangi temple is one of ancient temple in Kediri region. This temple has saved many stories about Kediri history. There are some reliefs on the temple wall that interest the tourists who like the historic tourism. The temple is stand in one complex and it looks like a rectangular form. This temple is one historical tourism objects in Kediri regency. Find the historic value by visit this old temple. More info visit www.eastjava.com
---
Mount Kelud Today, Mount kelud is very phenomenal with its new dome that exists from its lake. To reach Mount kelud, the visitors can use motorcycle and the direction come from Kediri to Wates continued to Margomulyo – Bambingan till Jurang Gelap or Mount Pedot. From Jurang Gelap till the new dome of Mount kelud is about 2 km and you can go on foot. Mount kelud has change, it had green crater before explode, but today the beautiful crater is gone and turn up new crater that different from…
---
Bukit Daun Hotel And Resto Bukit Daun Hotel And Resto Is a Located Argowilis Street 777, kediri East Java. It has great sense of uniqueness, ethnic and fresh air. This hotel is so cool. The distance is about 5 km from the town of Kediri in the way to Puhsarang. The location is in the hills with nice hotel setting and cozy atmosphere. The rate of only 170-600 thousand a night, it is a very recommended for family lodging The facilities are about large pool, nice room, and the calm…
---
Puhsarang Church This church is located in Puhsarang village, Semen district of Kediri, that's why it is called Puhsarang Church. The location is 10 km in western Kediri City. This old church had built by Ir. Heendricus Maclaine on behalf of pioneer Mr. Yohanes Humbertus Wolters CM in 1931. The architecture is collaboration between European and Majapahit, combination with other local cultures and Christianity. The first establishment of the complex is the "Antique Church", Puhsarang Church. The structure of the church has unique architectural style form and we can see…
---